ATP Credit Agricole Suisse Open: Juan Monaco faces Pablo Andujar in final
Last Updated: 26/07/14 8:38pm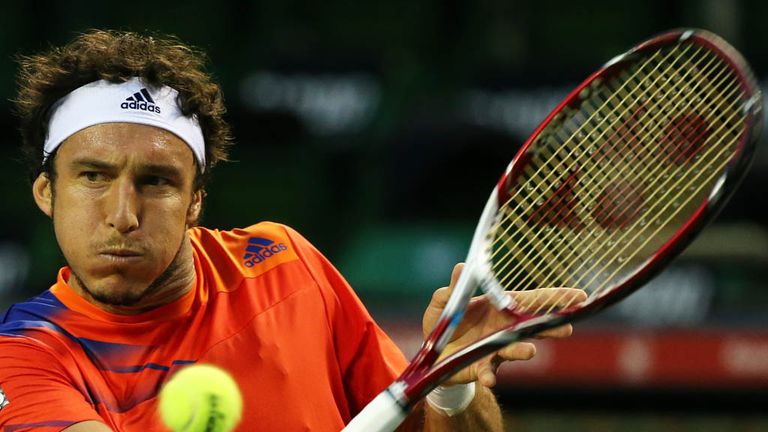 Juan Monaco will face Spain's Pablo Andujar in the final of the Swiss Open in Gstaad on Sunday.
It will be the Argentine's first final in nearly a year and he booked his place by beating Robin Haase 6-3 7-6 (7-4).
Monaco's world ranking has plummeted from 20 in July last year to 105 after a series of injuries and this was his first semi-final of 2014.
But he looked near his best as he recovered from breaks down in both sets to beat the seventh-seeded Dutchman, who reached the Gstaad final last year.
Monaco, whose last ATP final was in Kitzbuhel 51 weeks ago, said: "At the start I didn't play well, he deserved his 3-0 lead. But I began playing better and got into the match.
"I got some rhythm and hit the ball harder than him. I was able to get into control. In the second set I had some opportunities that I didn't take, I was a bit nervous, I've not played a semi-final this season.
Relax
"But at the end I just relaxed and played my tennis."
The South American has been bothered by three different injuries this season - his back, wrist and foot.
"I'm glad to be playing again. I'm just trying to be happy on court," he said. "I'm happy now to reach the final and I'm looking forward to doing something good on Sunday."                
Monaco has never played world No 71 Andujar, who profited from seven double-faults off the racquet of fourth seed Fernando Verdasco in a 6-3 6-7 (2-7) 6-1 win.
Verdasco, treated for a shoulder problem after losing the opening set, broke back in the second set as his opponent served for a straight-sets win.
Verdasco then stayed alive by claiming the second set in a tiebreak before collapsing in the third.