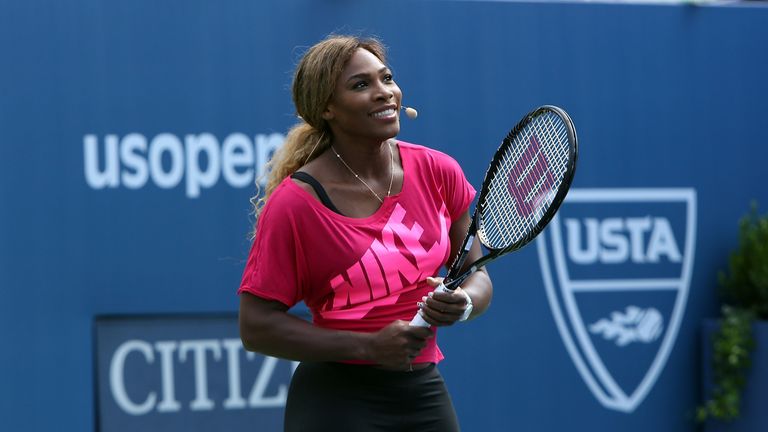 World No 1 and two-time defending champion Serena Williams is in buoyant mood for the US Open despite a stuttering year.
Since 2008, the only time Williams has arrived in New York without a slam title came three years ago when she was recovering from potentially life-threatening blood clots.
She has barely threatened to add to her 17 grand slam singles titles in 2014 with early defeats at the Australian Open, French Open and Wimbledon, but her prospects appear to be more rosy after winning two titles and losing to sister Venus in the semi-finals in Montreal.
Following an impressive final victory over Ana Ivanovic in Cincinnati last weekend, the 32-year-old American said: "I played well in that final, but this is a new week. These next two weeks I'm going to have to put that together for hopefully seven matches.
"If I can do that, I'll definitely have a good chance to be in the tournament for a long time. But we'll see. My expectations are always really high. I always expect the best from myself."
Williams is keen to release the pressure but there is no doubt her ambitions remain high.
"There's always next year and the year after, so you don't give up," she added. "You just keep going and you keep fighting to continue to win more."
Williams begins the tournament with the standout match of the first round against 18-year-old American Taylor Townsend, who had a dazzling run to the third round of the French Open.
"It's going to be a great match for me," said Williams. "She's such a great player. Extremely young. I have been able to see her play a little bit. She does everything really, really well. We're really good friends. We always talk and always text each other.
"She's a lefty. I always wanted to be lefty. That just in general puts you on a whole new level as a player. She's a very aggressive player. She comes to the net. She makes her shots."
The US Open begins on Monday August 25 and will be live on Sky Sports 3 from 4.00pm.