Marion Bartoli wants more women to follow Amelie Mauresmo and Corinne Diacre's lead
By Dev Trehan
Last Updated: 26/08/14 3:30pm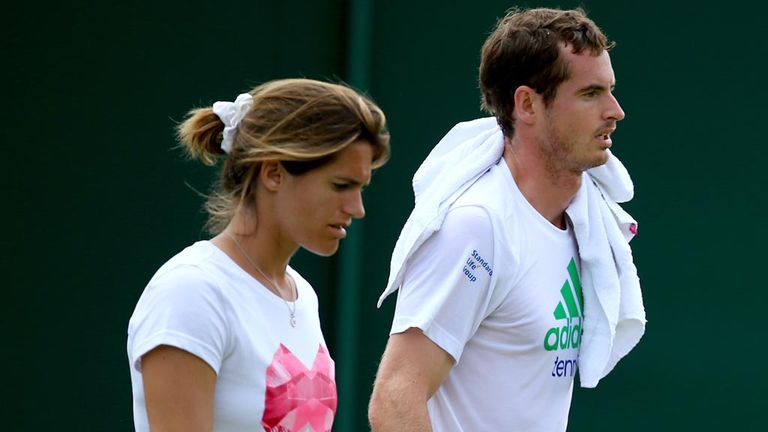 2013 Wimbledon champion Marion Bartoli wants more women to follow in the footsteps of her compatriots Corinne Diacre and Amelie Mauresmo and coach elite sportsmen.
Clermont Foot  manager Diacre took charge of her first league match earlier this month, becoming the first woman in history to manage a men's side in the top two tiers of European football.
Meanwhile, Bartoli's former mentor Mauresmo will preside over her second grand slam as Andy Murray's coach when the US Open gets underway on Monday, live on Sky Sports 3 HD.
Shelley Kerr has since been named as manager of Scottish Lowland League side Stirling University and Bartoli believe the appointments demonstrate a shift in mindset towards women in sport.
"It's very interesting - you can see matters changing," Bartoli told Sky Sports.
"Just looking back 10 years ago it would have been absolutely unthinkable to have a woman working in a men's football team.
"But this has been a really strong development and I remember the impact on the media in France when this (Diacre's appointment) was announced. It was absolutely massive.
"So as a woman it is something I am really encouraging, but I do think people should be judged on their ability to do the job.
"If that is a woman that can coach a men's football team, or a male tennis player, then I will be more than happy if more of them are doing it.
"To me it's really about capabilities whether it's a male or a female, it should be about she or he who is the best for the job basically."
Bartoli was coached by former World No 1 Mauresmo for her only grand slam triumph at SW19 last year, but she believes the former France Fed Cup captain needs time to adjust to the men's game.
"The men's game is different to the women's game, so I think for Amelie to coach a woman is a very easy task because she has been playing at the highest level," she said.
"She knows all the games and all the tactics and she knows how the different women are playing.
"To then coach a man, especially at the highest level, I think she will probably need to have a bit of a learning period to understand how the men are playing.
"But to me she's great for the job and I think Andy feels the same way."
The US Open begins on Monday August 25 and will be live on Sky Sports 3 HD from 4.00pm