US Open 2014: Boris Becker expects another Novak Djokovic and Andy Murray epic
By Dev Trehan
Last Updated: 03/09/14 11:35pm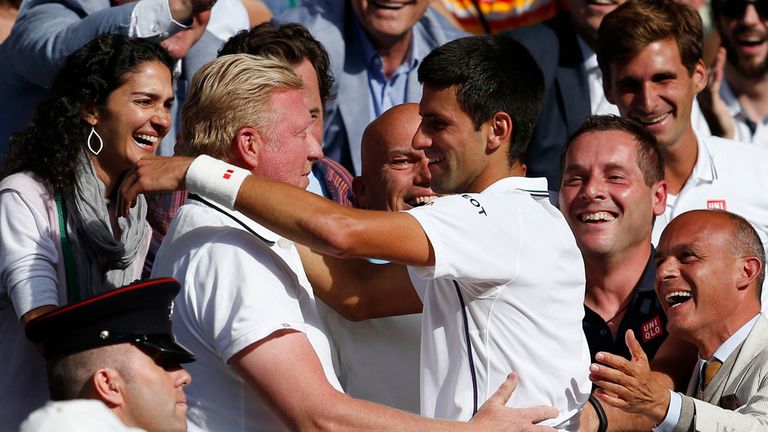 Six-time grand slam winner Boris Becker believes there is very little to choose between Andy Murray and Novak Djokovic ahead of the pair's meeting in the US Open quarter-finals on Wednesday night.
The friends and old rivals take to Arthur Ashe Stadium for a night match with a place in the last four at stake, live on Sky Sports.
And Becker, who became Djokovic's head coach late last year, says tennis fans can expect another titanic battle when the pair meet for the 21st time in their senior careers.
"It has the potential to be an epic," Becker said. "They have very similar styles and are classical counter-punchers that can move very quickly across the baseline.
"They both have a very good first serve and are like chess players on a tennis court.
"That's why I think in the past they've had these marathon matches and the quality has been unbelievable because there isn't really much difference between them.
"It's really about who is better on the day and who has the confidence to serve a little better.
"When they play each other it's always a battle. It has all the ingredients for a potential classic."
Djokovic is the first player that 1989 US Open champion has coached and the German revealed the pair are pleased with the progress they have made so far.
"On a professional level we are very happen where we are at the moment," he said.
"When you take a new coaching one of the most successful players of all time the measurements are extremely high.
"Anything other than winning a grand slam is a failure but that is not always right because obviously there is a reason why the player called you in the first place.
New direction
"Maybe he wanted to go in a new direction and do a few things differently. Then it takes a little bit of time to get to know one another.
"Obviously there are expectations when Becker comes into what is already a very successful Djokovic team.
"I've gone through a very consistent and successful year with him - coming back to number one and then winning Wimbledon which was the icing on the cake but it's a process. Change doesn't happen overnight.
"People have to get used to one another but in this fast-paced world we want success the next week and that's not realistic."
Becker added: "Whenever he plays I also feel like I'm playing. I get the same rush the same ups, the same downs.
"I'm very emotionally involved. Obviously I don't show it and I can't show it because it might affect the player but I understand exactly what he is going through because I have been on the same court twenty years ago.
"I understand when there is a crisis before the crisis hits and I understand when there is a momentum swing.
"Without going into too many details there are a few changes to his game whether tactically, strategically or mentally.
"In order to keep that quality you have to try and consistently try and improve some of the weaknesses that you have because the locker room doesn't sleep.
"Every year you have to improve a little bit and I feel like I have been able to do that with him."
Watch all the action from the US Open live on Sky Sports 3, with coverage from 4pm. Murray v Djokovic is expected to start in the early hours of Thursday morning.