Boris Becker thinks Amelie Mauresmo needs time to get things right with Andy Murray
By Dev Trehan
Last Updated: 03/09/14 2:33pm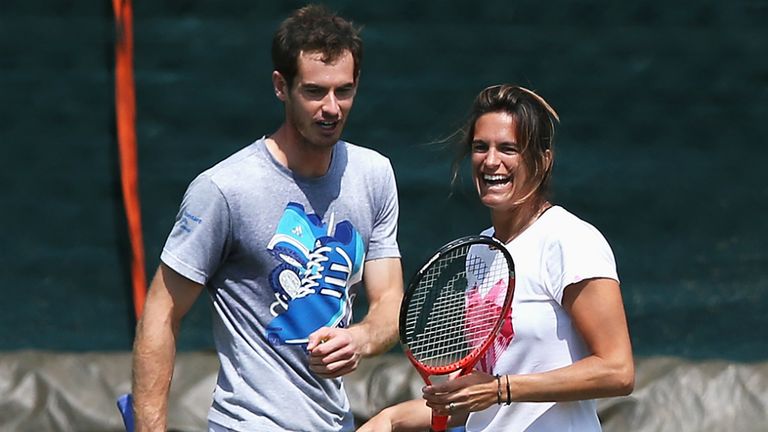 Boris Becker admits he was surprised by Andy Murray's decision to appoint Amelie Mauresmo as his head coach.
Two-time grand slam winner Mauresmo succeeded Becker's long-term former playing rival Ivan Lendl as Murray's coach, joining forces with the Scot after his run to the semi-final in this year's French Open.
Becker, who coaches Murray's US Open quarter-final opponent Novak Djokovic, believes the pair must be doing something right if they are still working together three months down the line.
"I think everybody was a little bit surprised after the Lendl relationship," Becker said.
"You expected Andy to pick another former (male) player or another star. On the other hand his collaboration with his current team that obviously includes Danny (Vallverdu) was working very well.
"He reached the semi-final of the French Open but something obviously wasn't working 100 per cent right or he wouldn't have made that decision.
"I believe they worked together on a trial basis throughout Queens and Wimbledon. I think Andy felt comfortable enough to prolong that relationship to the end of the year.
"What I hear from the outside is that they are very comfortable with one another. This is now the second grand slam they have worked together.
"He's now in the quarter-final he played a great match against (Jo-Wilfried) Tsonga - something must be working well otherwise he wouldn't be there.
"But sometimes a coach needs a little bit longer than a tournament or three to have a chance at all."
Six-time grand slam winner Becker was coming to the end of his glorious career when Mauresmo was still playing and admits that despite not knowing her well the Frenchwoman comes across very well.
"I played in her time towards the end of my career and I believe she is a very pleasant and intelligent woman.
"She knows the game very well I think she's very thoughtful and she's I think a pleasure to be around.
"I've never really had a long conversation with her but the little bits and pieces that I've had have been good."