ATP World Tour Finals: Roger Federer forced to withdraw from final against Novak Djokovic
Last Updated: 17/11/14 4:26pm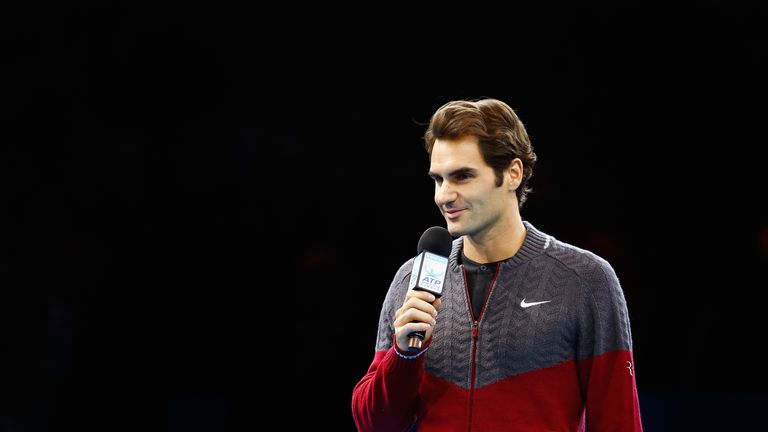 Roger Federer has pulled out of his final against Novak Djokovic in the ATP World Tour Finals.
The Swiss set up a clash with Djokovic after a gruelling three-set semi-final against Stan Wawrinka, but a suspected back injury forced the 33-year-old to withdraw, denying the crowd the chance to watch the world's two best players in the final event of the season.
There had been speculation that Federer was struggling with the problem and that only increased when he failed to show up for a scheduled practice session on Sunday afternoon.
The announcement was made following the doubles final, with Federer taking to the court to explain the situation to the fans.
I tried everything I could last night and today - painkillers, rest - until the very end, but I can't compete at this level with Novak.
Roger Federer
He said: "Unfortunately I'm not match fit to play match tonight. Clearly I wish it wasn't this way. You try all year to be ready for the ATP World Tour Finals and I didn't want to end this way.
"I tried everything I could last night and today - painkillers, rest - until the very end, but I can't compete at this level with Novak. In a final like this and at my age, it would be too risky. I hope you understand."
Federer had earlier battled for almost three hours to defeat countryman Stan Wawrinka, saving four match points, and it remains to be seen whether he will recover in time for Switzerland's Davis Cup final against France next week.
In a statement on his Facebook page, Federer wrote: "I hurt my back late in the match yesterday against Stan. I am very disappointed and I hope to be feeling better soon.
"It's been an extremely difficult decision because I love playing in London and the ATP World Tour Finals have been an absolute highlight of my career. Unfortunately, my back problem does not allow me to play right now."
Organisers announced that British No 1 Andy Murray will instead face Djokovic in one pro set, and then join John McEnroe in a doubles match against Tim Henman and Pat Cash.
The withdrawal means Djokovic becomes the first player since Ivan Lendl in the 1980s to win three consecutive World Tour Finals titles, with the Serbian unbeaten at the O2 since 2011.
He expressed his sympathy towards Federer, insisting that his old rival would have played through the pain if it was possible. 
"I feel really sorry for Roger, for not being able to come out on the court, I've known him for a long time," said Djokovic.
"I've been in tennis for 10 years and Rafa (Nadal) and Roger have been probably the biggest competitors, guys that will always give their 100 per cent. I'm sure that if he could have come out and played, he would have done.
"I wish him all the best to recover. He has got an important week ahead of him, Davis Cup final.
"Obviously I feel disappointed for you guys for not seeing a match. This was a well anticipated match between one and two of the world and I'm sure everyone was excited to see it.
"This is probably the first time in history that we have something like this happen and I really apologise for that."