Tennis Review of 2012
Relive the most memorable moments and best quotes, from an action-packed year in tennis.
Last Updated: 20/12/12 6:03pm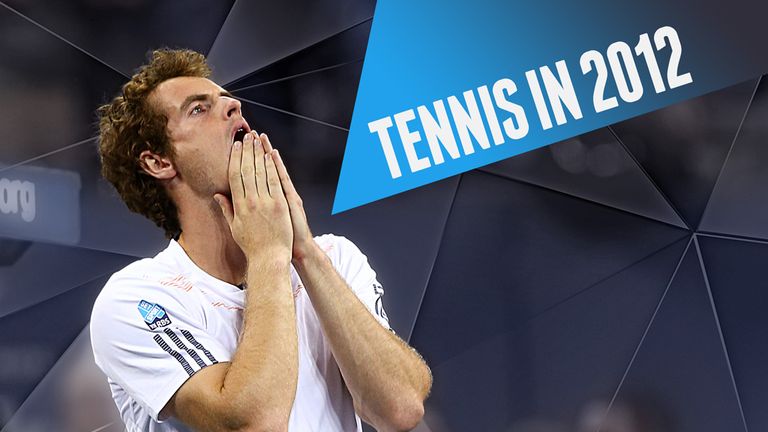 Overview:
The 2012 tennis season proved to be a breakthrough campaign for Andy Murray, who ended Great Britain's 76-year wait for a male Grand Slam singles champion with a famous victory in New York, as well as winning Olympic gold.
There was also British success on the women's side with Heather Watson becoming GB's first WTA singles champion for almost a quarter of a century when triumphing at the Japan Open in October.
Plenty of household names also shone during the calendar year, with the 'Big Four' in the men's game re-enforcing their dominance over the rest of the field by dividing all four majors between them, although David Ferrer staked a serious claim for player of the year by grabbing seven ATP titles.
Novak Djokovic started and ended the year in style, picking up where he left off in 2011 with Grand Slam success in Melbourne and retaining his No.1 ranking for the second successive year with victory at the ATP World Tour Finals in November.
Djokovic and Nadal contested an epic Australian Open final at Melbourne Park lasting almost six hours - the longest in Grand Slam history - before the Serb prevailed for his fifth major title. The performance and on-court celebration which followed from the Serb was truly herculean.
At the same venue 24 hours earlier, Victoria Azarenka claimed the women's number one ranking after a stunning 6-3 6-0 demolition of Maria Sharapova. The Belarussian's 26-0 start to a WTA season was the best since Martina Hingis in 1997.
The clay-court swing followed a similar pattern to previous years on the men's side with Nadal ruling in Barcelona, Monte Carlo and Rome and then the French Open to claim a record-breaking seventh title at Roland Garros, ending a seven-match losing streak against Djokovic in the process. The undisputed 'King of Clay' continues to rule on the red dirt.
There was a new name on the women's trophy, though, as Sharapova ended Sara Errani's dream run to become the 10th female to claim the career Grand Slam. It was to be the Russian's third and final title of the year, although she did add an Olympic silver medal to her trophy cabinet at Wimbledon.
Talking of Wimbledon, the hallowed turf hosted yet another famous Federer triumph in June. The Swiss maestro reduced home favourite Murray to tears after battling back from a set down to win their final 4-6 7-5 6-3 6-4.
The win was a record-equalling seventh for Federer at the All England club and put him atop the world rankings for the first time since 2010. Murray was to get his revenge, though, dropping just seven games to stun the Swiss in the Olympic final the following month.
Serena Williams began a sensational end to the season at Wimbledon, downing Azarenka in finals at SW19 and Flushing Meadows and Sharapova in the Olympic showpiece in between as she won 26 of her last 27 matches. Her heroics lifted spirits in her native America following Andy Roddick's retirement and a serious illness to Mardy Fish.
But it was Murray's magical moment in the Big Apple which stole the year for British fans in late September. His stunning 7-6 (12-10) 7-5 2-6 3-6 6-2 victory over Djokovic on Arthur Ashe sparked wild celebrations in his native Scotland and finally confirmed his destiny as a Grand Slam champion.
The Scot will now be hoping Frank Sinatra was right and he can 'make it anywhere' after conquering New York.
Top 10 memorable moments:
1) Murray's major breakthrough
Just when some started to doubt whether he would ever win a Grand Slam, the Scot finally produced the goods in the most dramatic of fashions in New York. Having led by two sets to love, Murray looked like he was set to become the latest victim of another Djokovic comeback as the world number one took the match to a deciding set. However, the British No.1 rallied back and broke twice before serving out the match and slipping into an incomprehensible daze, clearly unable to grasp the magnitude of the moment. The 76-year wait for a British male major singles winner was finally over, the four previous final defeats mere war wounds, Murray's place amid the game's greats was assured at last.
2) Melbourne marathon
As if the entertainment of two sensational semi-finals was not enough, Novak Djokovic and Rafael Nadal treated the crowd at the Australian Open to the longest Grand Slam final of all-time, clocking in at five hours and 53 minutes. World number one Djokovic, whose clash with Andy Murray in the semis finished just shy of five hours, eventually prevailed 5-7 6-4 6-2 6-7 (5-7) 7-5, to claim his third successive major title and his fifth in total. It was a super-human effort to back up a sensational 2011, cementing his status as the game's leading player. For Nadal, it was a remarkable achievement just to be competing in the final, having feared he would have to pull out of the event the night before his first-round match due to a freak knee problem.
3) Murray's golden moment
Just a matter of weeks after his devastating defeat in the Wimbledon final, Murray was presented with the chance of revenge against Federer. With the support of a nation engulfed in Olympic fever behind him, Murray produced two of his best performances of the year to oust Djokovic in the semis and then dismantle Federer back on Centre Court. Having endured barren spells on the back of his previous Grand Slam final losses, the victory was evidence of a new mental fortitude. With Flushing Meadows on the horizon, Murray was armed with a new-found confidence that would prove to be invaluable in his pursuit of a maiden major title.
4) Royal farce at Queen's
In the most bizarre moment of the year, David Nalbandian was disqualified from the final of the AEGON Championships at Queen's after injuring line-judge Andrew MacDougall by kicking a sponsor board into his leg. The Argentinian was leading 7-6 (7-3) 3-4 before frustrations got the better of him after hopelessly chasing down a Marin Cilic winner. The incident left the line-judge in question with a bleeding shin and resulted in Croat Cilic being awarded the title. Nalbandian was consequently fined £6,400 by the ATP and had his £36,500 prize money withdrawn after being deemed guilty of unsportsmanlike conduct. Has apologised afterwards, saying: "I am very sorry, sometimes you get frustrated."
5) Giant killing Rosol
Undoubtedly the biggest upset of the season and one of the greatest in Wimbledon's history unfolded when unknown Lukas Rosol ousted two-time former champion Rafael Nadal in a five-set epic. The 100th in the world-ranked Czech produced the sort of power and precision necessary to penetrate the Spaniard's infamous defensive game, making the watching world sit up in amazement. Nadal appeared to have turned the tide when he took the fourth set 6-2, but Rosol responded with an irrepressible display in the decider to dump out the second seed. The defeat prompted serious questions over Nadal's form and fitness, with fears over his long-running knee problems realised as he missed the remainder of the season amid a series of setbacks.
6) Federer - 'The greatest'
If questions still remained over Roger Federer's status as the greatest player ever to grace the game, they were answered with a seventh Wimbledon title in July. Already the record Grand Slam titles holder, the Swiss sensation levelled Pete Sampras' tally at SW19, coming from a set down to deliver Andy Murray another dose of major final heartbreak. The triumph also saw Federer regain the world number one spot, enabling him to usurp another Sampras record of spending the most weeks as number one. It was all the more remarkable that Federer delivered such a display at just shy of 31-years-old, beating two of his great rivals, Djokovic and Murray, in their prime.
7) Fabulous Ferrer
David Ferrer's remarkable 2012 was capped with a ATP-high seventh title, ending his long wait for a Masters crown by triumphing in Paris. It was a crowning glory to the Spaniard's best-ever year, in which he was the only player to win titles on grass, hard-court and traditional red clay, even more impressive given he hit the seemingly dreaded 30 mark back in April. The success cemented Ferrer's status at the head of the chasing pack of the 'Big Four' and left him in a position where he could have actually overtaken compatriot Rafael Nadal in the rankings at the ATP World Tour Finals.
8) Watson ends barren British run
Fellow Brit Laura Robson may be considered the breakthrough act of 2012 but it was Heather Watson who managed to end Britain's 24-year wait for a first WTA singles title. The HP Open in Japan may not be the most high-profile of tournaments but winning it was enough to erase Sara Gomer's name from the history books. Watson managed the success in the most dramatic of circumstances, saving four match points before finally clinching victory in her final tournament of the year. It leaves us with an intriguing rivalry to look forward to in 2013 with Watson and Robson restoring the reputation of women's British tennis, with the former currently sitting four places higher in the rankings.
9) Roddick says goodbye
When Andy Roddick called a surprise press conference ahead of his US Open second-round clash with Bernard Tomic, most expected him to be pulling out due to another injury. Some even suspected that it would be another prank on the press, with suggestions he was just going to be presented with a cake to celebrate his 30th birthday. However, Roddick confirmed that he was calling time on his decorated career at the end of his run at Flushing Meadows, which was to be a fourth-round defeat to Juan Martin Del Potro. The big-serving American won ATP singles titles in 12 successive seasons, with 2003 the peak of his career when he reached world number one after winning the US Open, his only Grand Slam title.
10) Robson retires Clijsters
Questions over whether Laura Robson would ever realise her potential were answered with one of the biggest women's upsets of the year. The Wimbledon girls' winner was supposed to play sub-plot to Clijsters' final fling at a tournament she had won in her three previous appearances. The combination of the Brit's blistering forehand, rock-solid backhand and stunning return game proved too much for Clijsters. The 18-year-old showed that it was no fluke as she then beat another Grand Slam winner, Li Na, in the fourth round, before running reigning champion Samantha Stosur close.
Quotes of 2012:
"I'm getting closer," - Andy Murray struggles to fight back the tears after his Wimbledon final defeat to Roger Federer.
"I have lost a lot of tough matches and had a lot of questions asked about me. This has been the best week of my tennis career by a mile." - Andy Murray after winning gold at the 2012 London Olympics.
"For me, it's been a great month. I won Wimbledon, became world No. 1 again, and I got silver. Don't feel too bad for me." - Roger Federer wants anything but sympathy after taking the silver medal.
"I've decided this is going to be my last tournament...I just felt like it is time. I don't know if I am healthy enough or committed enough to go another year. I've always wanted to, in a perfect world, finish at this event (US Open). I have a lot of family and friends here. I thought all year that I would know when I got to this tournament. And when I was playing my first round, I knew." - Andy Roddick calls time in New York.
"That would have been a tough one to lose, so I'm so, so happy I managed to pull through in the end. The body is hurting a bit, but it's worth it." - An elated Andy Murray after his maiden Grand Slam title at the US Open.
"I had a great opponent today. He deserved to win this Grand Slam more than anybody, I'm sure, because over the years he's been a top player. He's been so close; lost four finals. Now he has won it, so I would like to congratulate him. Definitely happy that he won it." - Novak Djokovic after his final defeat in New York.
"It is a tough moment to end a final like that. Sometimes we feel so much pressure from the ATP. It is a mistake and I have to pay for that. I disagree with that (abandoning the final). Everybody makes mistakes. I don't feel it had to end like that, especially a final. I'm very sorry. There are a lot of rules and sometimes the ATP don't do anything. The rule book is very big. The ATP have made mistakes with the players and nothing happens." - David Nalbandian after 'that moment' at Queen's.
"It's been such a long journey to get here today, through all the injuries. No matter how many grand slams you win, to be here and win this one, even if it was the only one, would be just as special as winning all four." - Maria Sharapova after completing her career Grand Slam at Roland Garros.
"If you look at the list of these people, it's kind of difficult to believe that a little girl from Belarus is on that list. But it's a really incredible achievement. When I started to play tennis I had this big picture in my head that I wanted to be there. Back then it was so far away - it was pretty much like touching the sky. But now I'm sitting here kind of in that sky, so it's a really incredible feeling." - Victoria Azarenka, on being one of 11 women to finish as year-end World No.1.
""Grab 2013 by the neck and kick it in the b*****s!"." - Heather Watson's dad gives her some fatherly advice ahead of the New Year.
The Sky Sports view on Murray's US Open moment...
Mark Petchey: "This is unbelievably special. I always believed he'd win one of these things. There was always a touch of genius about his tennis but there are three other geniuses around at the moment, so it was always going to be difficult for him to do it. I'm incredibly proud."
Greg Rusedski: "When you're as consistent as Andy Murray is there's no way he's not going to win another one. Maybe he's not going to dominate like Djokovic has, winning three out of the last four, but I wouldn't be surprised if he won one or two next year."
Annabel Croft: "This will inspire Laura (Robson) as well. She's pretty close to Andy Murray and has spent a lot of time on court with him in the mixed doubles. As we know he chose her as his partner at the Olympics, over Heather Watson, which was a very painful decision for Watson, who had won a WTA doubles title the week before. But he saw something a little special in Laura and I think this will really motivate her."
Ones to watch in 2013:
David Goffin
"He's got great potential in terms of his touch and the way he reads the game. He takes a backhand early and he absorbs pace really well, [especially] from the baseline." - Roger Federer's description of Belgian 21-year-old David Goffin after losing the first set of their French Open clash earlier this year. World number Goffin showed glimpses of serious potential during his run to round four at Roland Garros. Will need to increase the power on his groundstrokes to become a real danger to the big players.
Kei Nishikori
Japan's No.1 reached a career-high ranking of No.15 in the world in his 23rd year, reaching the Australian Open quarter-finals before landing his second ATP World Tour title in Tokyo. Whilst not expecting the Florida-based right-hander to make a serious challenge at the majors, victories over Tomas Berdych and Jo-Wilfried Tsonga in 2012 showed he is more than capable of breaking into the top 10 next year.
Heather Watson
The 20-year-old from Guernsey broke into the WTA top 50 for the first time when she became the first British woman to win a WTA Tour singles title in 24 years at the HP Open, Tokyo. That feat saw her replace compatriot Laura Robson as the British number one and she will be keen to cling on to that status in 2013. Watson boasts a solid all-round game but relies more on opponent mistakes than winners of her own.
Laura Robson
Stunning wins over Kim Clijsters and Na Li at the US Open showed that world No.53 Robson has the potential to make a serious move up the rankings. Narrow defeats to Maria Sharapova and Sam Stosur were sandwiched in between and the 18-year-old is beginning to look right at home against the top players. Boasting a powerful forehand and improving agility on court, lefty Robson looks destined for a big future.