Andy Murray must target March Masters events to be world No1, says Mark Petchey
Masters magic in March can set fit-again Andy Murray on course for world No1 spot, says Mark Petchey.
By Mark Petchey
Last Updated: 12/02/14 5:11pm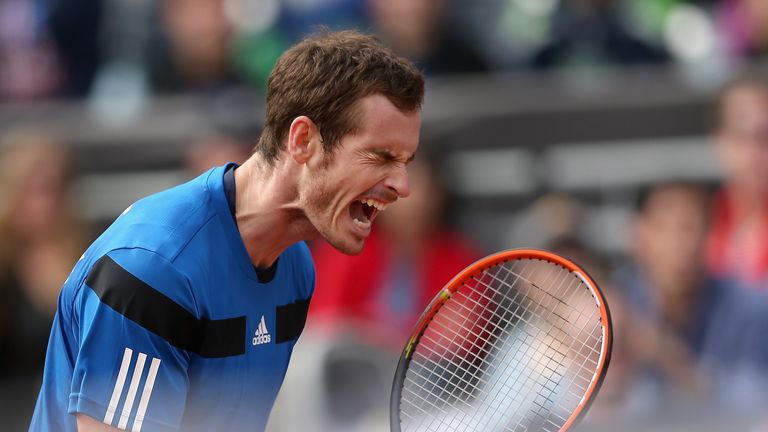 After spending four months out of the game, recuperating from his operation, he showed he's a fighter and a winner at the Australian Open, where he made the quarter-finals, and is obviously confident with his condition, given the fact he's taken up a wildcard invitation in Rotterdam this week.
Andy wouldn't jeopardize his season at this stage if he didn't think he could win this event, so as fans we've got to take it as very good news.
However, people need to be realistic.
There will always be people comparing his comeback to Rafa Nadal's return last season but you need to keep it in perspective. Rafa came back straight onto his favourite surface of clay and he had a long build-up to the French Open.
In contrast, Andy picked a harder route - the Australian Open is his toughest surface - but he'll be happy for the most part from his efforts Down Under. He's also building up a staggeringly good Davis Cup record.
The good news is that he's back in shape and in a good place now.
After adding the Wimbledon title to his US Open and Olympic titles last summer, Andy now has two main career goals - to win the two remaining majors and reach world number one.
Following his Australian Open exit Murray slipped to sixth in the world, which makes the second of those targets tougher to accomplish in the next 12 months.
His current ranking isn't a major concern as it's down to his back problems not his form but he'll know he needs to win the upcoming Masters events in Indian Wells and Miami to stand a chance of reaching the summit this year.
He has really got to target those two US events.
Andy is trying to be the world's best and although it's going to be difficult to achieve, Nadal showed last year that if you get your confidence back then great things can happen.
Rivals
Nadal knocked Novak Djokovic off top spot in the rankings and it's a very interesting time for the Serb.
He lost to Stanislas Wawrinka in that great semi-final in Melbourne, and people will be wondering whether he's in for a tough year.
His partnership with Boris Becker has created a lot of headlines and there will be big pressure to be successful quickly under Boris' guidance. No question, Djokovic will be the one player people will be talking about this year.
But one thing he has in abundance is will and I expect him to return to his best and pick up many titles this year.
As well as Becker and Djokovic, Stefan Edberg is working with Roger Federer, while Ivan Lendl remains in Murray's corner - and it's an interesting time with all these super coaches!
Lendl is the one strutting around with no pressure at all at the moment and I bet he's loving it. But it's going to be intriguing to see how it plays out.
But it's not just about the 'Big Four'. Tomas Berdych said last week that Wawrinka winning in Australia has proved to all the other guys they can do it. The Swiss' win, much like when players started beating Tiger Woods' in golf majors, has given others confidence.
Davis Cup
Confidence must be running high in Great Britain's Davis Cup team right now, too.
It's been an amazing time for British tennis and the win over USA was special.
Leon Smith, the head of men's tennis, deserves a lot of kudos for getting the best out of his players and it was great to see Dan Evans doing so well in Zagreb last week, where he made the semi-finals.
Evans has got the talent and it is winning runs like that which really build up confidence. He was lacking at the back end of 2013 so for him to get in the mix so early is a great sign.
He's got some big weeks coming up and he'll need to pick his schedule smartly. Perhaps he should play on his best surface and worry about clay later in his career. He should focus on getting in the top 100 and then bigger things can happen.
Meanwhile, on the women's side, the GB Fed Cup team suffered a big blow by losing Laura Robson but Heather Watson getting back to winning ways underlines where she's at.
It's been a tough time for her and she's maybe lacked some confidence but at some stage hopefully she'll find that bit of extra power or dimension to her game that will catapult her into the top 15.
It's an exciting time for the sport in this country, no question.