'Novak Djokovic produced best-ever performance to win Miami Masters'
Rafa Nadal must reconsider tactical approach against world No 2, says Peter Fleming
Last Updated: 01/04/14 8:46am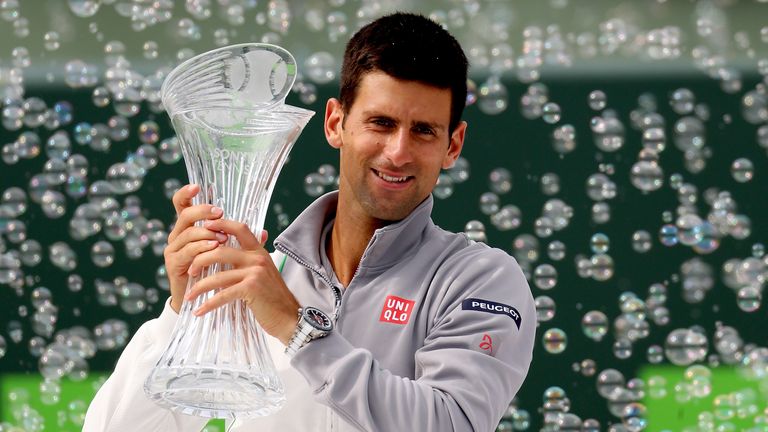 The world number two became just the second person in history to win Indian Wells and Miami back-to-back twice with a comprehensive 6-3 6-3 triumph over his Spanish rival. Sign in here to watch the action.
With the clay court season approaching, Fleming told Sky Sports Nadal will have to seriously reconsider his tactics against the Serbian star if he is to get back to winning ways.
Asked whether Djokovic could play a more perfect match, Fleming said: "I don't think so. He made a couple of mistakes but that was about it. He will look back on this match with a lot of pride and happiness. This might be the best he's ever played - or certainly in that ballpark.
"He's a great player. He's the best hard court player, certainly the best hard court mover.
"Rafa failed to be as aggressive as he needs to be against Novak, though. He was hitting top spin shots down the middle of the court and that allowed Djokovic to come onto him.
"Rafa will look at that match and realise 'my ground strokes need to be sharper'. He can't defend because Novak is getting too good at taking the ball early and hurting him."
Sweep
Greg Rusedski was equally impressed by Djokovic's display in Florida and reckons he could even be on for an incredible clean sweep of the nine Masters events, after taking out the first two in such style.
The former British number one also reckons Djokovic will be the man to watch at the French Open.
Rusedski suggested if Djokovic can couple his Miami win over Nadal with a similar head-to-head triumph on the clay in Monte Carlo, he will have a psychological edge over the Roland Garros king.
"I look at the way Novak Djokovic played today and if he can continue playing with the same mental approach there are going to be very few people able to stop him," said Rusedski.
"It seems like the Djokovic of old. Watch out the rest of the tour. He's really aiming for that French Open; it's the only Grand Slam he's missing. To start off the season winning the first two Masters series - can he sweep them all? That's not an unthinkable possibility.
"I also think there will be a little bit of doubt in Nadal's mind. Look at the Australia Open final - yes, he hurt his back but he had break points in that first set and then all of a sudden he got pummelled by Djokovic.
"Djokovic played great but that's going to hurt, I think. When Nadal gets on the clay his confidence rises but if they meet in the final of Monte Carlo and Djokovic wins that one then doubts start creeping in. The older you get the more you start to worry and you start to remember those losses a little bit more.
"Djokovic really looked like he had no weaknesses out there and Nadal didn't know what he has to do. When he plays Roger Federer he knows he just has to break down the backhand but when he plays Djokovic he wasn't sure if he's going to the backhand, going to the forehand...
"Djokovic, though, was as good as it gets - I've never seen anybody play such a convincing match against Rafa. He made him look very average."