O'Brien crashes out
Britain's Katie O'Brien suffered an early exit at Wimbledon as she lost 6-0 7-5 against Japan's Kimiko Date-Krumm.
Last Updated: 20/06/11 4:58pm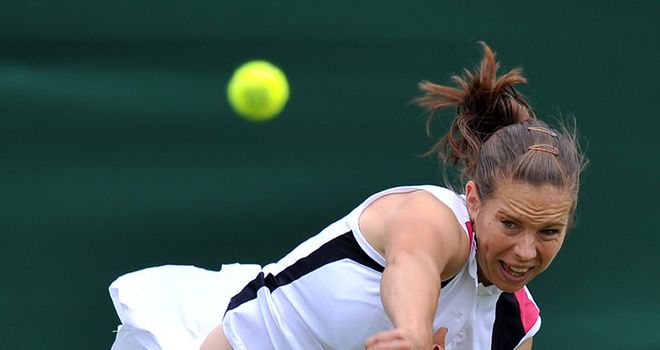 Britain's Katie O'Brien suffered an early exit at Wimbledon as she lost 6-0 7-5 against Kimiko Date-Krumm on day one - and afterwards admitted she may quit tennis.
The Japanese veteran took just 17 minutes to storm through the opening set as the British number five struggled to find any rhythm.
O'Brien performed much better in the second set but the 40-year-old Date-Krumm proved the stronger to wrap up her first-round victory.
Bad start
Home supporters on the new Court Three may have had high hopes for the Briton, but their confidence was soon sapped after the first-set whitewash.
O'Brien got off to the worst possible start, double-faulting to hand Date-Krumm a morale-boosting opening break before her opponent held serve comfortably.
O'Brien again double-faulted on the second of two break points to give Date-Krumm a 3-0 lead before a third double in the fifth gave Date-Krumm three break points. She needed just one, dropping a cheeky slice at the net before the former world number four served out to clinch the first set.
Sensing the Briton was low on confidence, home fans got behind O'Brien and she responded at the beginning of the second set, with more guile in her serve and baseline strokes.
The 25-year-old powered down her first ace and Date-Krumm then went long to give the Briton her first game of the match.
Fighting back
The Yorkshire player's attempt to stay in touch with Date-Krumm stuttered in the third game when she lost her service after she was unable to return a strong cross-court backhand.
O'Brien showed promise as she broke Date-Krumm's serve to level the second set at 2-2, but her own service let her down again as the 40-year-old took the lead once more.
O'Brien pulled it back to 3-3 but she lost her serve again, causing her to let out a despairing cry.
The home player then rallied with a much-improved performance to stay in the game before Date-Krumm won a tight line call to leave O'Brien serving to stay in the match at 5-3 down.
She saved one match point before holding on to leave Date-Krumm with a chance to serve out for the match.
The Japanese faltered, to allow O'Brien to pull back to 5-5, before she came back to win two successive games to clinch the match.
Date-Krumm will next meet Venus Williams in the next round.
End of the road?
Defeat marked the seventh time that O'Brien has failed to make the second round of the Championships in eight attempts and she's now ranked 215th in the world.
She admits she will struggle to earn the wild card she will probably need to enter next year's tournament, and concedes she may have to walk away from the game if her form does not improve.
When asked whether she planned to return for a ninth crack at Wimbledon, O'Brien said: "I hope so. It's no fun at the moment, though, so I would have to be prepared to make some big improvements if I'm going to continue what I'm doing."
O'Brien may concentrate more on studying for a business studies degree with the Open University if her current poor form continues.
"Because I'm also academically quite able, there are actually other things I could do," the Yorkshire player said.
"I'm not enjoying life on the Challenger Tour at the moment. It's no fun.
"Obviously it is disappointing. In the first set I was completely outplayed. But I know that second set was within my grasp. Any tennis match you lose you're disappointed, so I'll probably be a little bit miserable for the next couple of hours.
"I've got a lot of friends and family down with me, so hopefully they'll help me snap out of it. But if I want to get better as a player, obviously I have to analyse what went wrong, what I could have done better in the match."