Saville shatters Broady dream
Liam Broady saw his dreams of becoming Wimbledon boys' champion shattered by Luke Saville on Saturday.
Last Updated: 02/07/11 6:12pm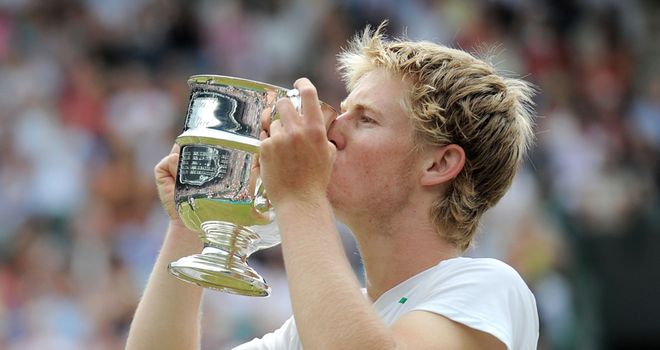 Liam Broady saw his dreams of becoming Britain's first Wimbledon boys' champion for almost half a century shattered by Luke Saville on Saturday.
Australian Saville fought back from a set and a break down against the Stockport-born 17-year-old to clinch the title 2-6 6-4 6-2.
Broady had become the first British boy to reach the junior singles final at Wimbledon for seven years with his semi-final defeat of Jason Kubler.
The last time it was won by a home-grown player was in 1962 when Stanley Matthews junior, son of the legendary England footballer, took the title.
Broady's defeat means the long wait will continue, at least for another 12 months, with the ambitious teenager already aiming for glory in next year's tournament.
And he is determined to use the defeat positively as he aims to forge a successful professional career in the sport.
Motivation
He said: "Obviously I've got mixed emotions at the moment. I was happy to get to the final and disappointed to lose, but I think it will be great motivation for me.
"I'll use it to come back, train harder, get fitter, get stronger, and try to win it next time instead of making finals. Because it doesn't feel good.
"I'd love to win Wimbledon juniors next year and see where it goes.
"Obviously every junior in the world would love to win Wimbledon seniors."
Broady made a fantastic start by breaking his opponent twice and saving three break points on his own serve to take the first set.
The second was a rollercoaster affair, Broady breaking in the first game and then rescuing a break point against him in the following game.
Saville held serve in the third then broke the young Briton for the first time in the match before rescuing a break point to win the fifth.
Confidence
Broady then held in style to make it 3-3 and immediately broke Saville to wrest back the advantage, but he double-faulted in the next to take the score to four games apiece.
The home favourite lost the next 11 points in a row as his confidence appeared to desert him and Saville went on to take the set on the third of three set points.
Saville grew stronger as the match progressed and with his confidence now severely dented Broady found himself serving to stay in the match.
And when he put a drop shot into the net to give Saville match point, the Australian took full advantage, smashing home at the net to clinch the title.