Dream come true for new champ
Novak Djokovic described victory in the Wimbledon final as "the most special day of my life."
Last Updated: 03/07/11 7:25pm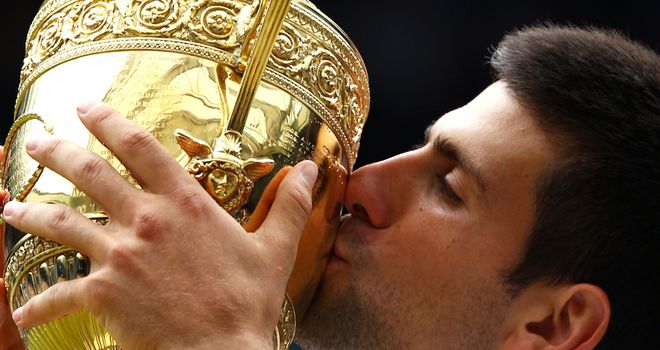 Novak Djokovic described victory in the Wimbledon final as "the most special day of my life."
The Serbian beat Rafael Nadal in four sets to win his first Wimbledon title, just two days after it was confirmed that he will take over from the Spaniard as the new world number one on Monday.
Djokovic said: "It's really hard to describe in any words. It's the most special day of my life. It's my favourite tournament and I always dreamt of winning. I think I'm still sleeping and having a dream."
He and Nadal had played five times in grand slams before this match, with the Spaniard winning on each occasion.
"He has always been winning the big matches against me at grand slams," Djokovic said. "Today I think I played probably my best match on grass ever."
In the moment of victory Djokovic fell to his knees and ate a piece of the Wimbledon turf. "I felt like an animal," he said. "I wanted to see how it tastes. It tastes good."
Djokovic is determined not to have tasted victory for the final time. "I will definitely come for some more Wimbledons, more Grand Slam trophies," he said. I mean, this is what I'm born for," he said. "I want to be a tennis champion. I want to win more Grand Slams."
Djokovic's incredible movement and precise shot placement earned him the first two sets. His level dipped in the third, but it returned in the fourth to secure him a third Grand Slam title.
"The feelings that I had at that moment, I really don't know how to describe. Best feeling I had ever on the tennis court," Djokovic added.
Incredible
"Winning Wimbledon, looking at my box, 20 people, closest people to me in my life being there, supporting me, getting to share that moment and that experience with them was incredible."
Nadal had won 20 straight matches at the All England Club, including two of the previous three titles. He missed the 2009 tournament because of injury, but was playing in his fifth Wimbledon final in six years.
"For me it's a dream another time be back in this final," said Nadal, a 10-time Grand Slam champion. "Today wasn't possible. I tried my best as always, today one player play better than me. I will try another time next year."
The loss to Djokovic was Nadal's first in a major final to a player other than Roger Federer.
"When I won in 2008 for the first time, the emotions was very high so I can imagine how (Novak feels) today," said Nadal, who lost to Federer in the 2006 and '07 finals. "It's a special day and another time I congratulate him."
Nadal injured his left foot in the fourth round, but painkilling injections helped him through to the final.
"Seriously, I lost because I am playing against the best player of the moment, the best player of the world tomorrow, and I am the second," Nadal said. "And when you play against these players and they are playing unbelievable, the normal thing is to lose."
Nadal was full of praise for the new champion, whose previous two grand slam titles came at the Australian Open, in 2008 and earlier this year.
"Congratulations for his win today and for his amazing season," Nadal added. "Well done.
"Wimbledon has always been the most special tournament for me. To be here is just a dream. I can imagine how Novak feels today. It's a special day. I would like to congratulate him."