Sorensen run at an end
Louk Sorensen's remarkable US Open campaign ended when he quit his match with a lucky loser due to cramp.
Last Updated: 31/08/11 10:26pm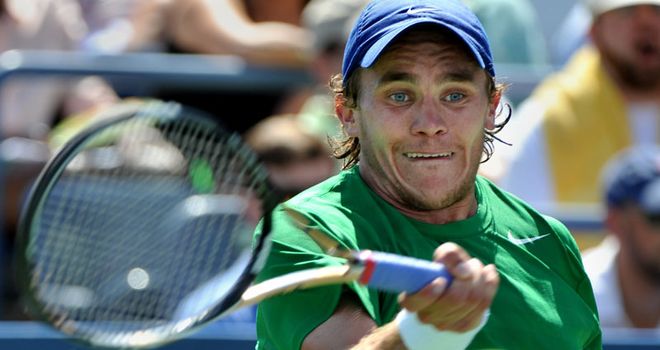 Louk Sorensen's remarkable US Open story ended in disappointment on Wednesday.
The Irishman, who had been due to face sixth seed Robin Soderling, ended up facing lucky loser Rogerio Dutra Da Silva but he was unable to take advantage of that stroke of luck, being forced to quit the match in the fourth set due to cramp.
It was a strange end to an even stranger story as far as Sorensen was concerned.
He quit the professional game in May after a succession of injuries, turning to coaching and playing league matches in Germany, where he lives and was brought up.
However, tempted by a trip to New York, he decided to enter US Open qualifying under his protected ranking.
Having made the journey, he still needed 10 players to drop out of the event but that duly happened and the 26-year-old went on to win three matches to reach the main draw.
Sorensen, the only Irishman to win a main-draw match at a Grand Slam (at last year's Australian Open), had expected to face Soderling and only found out about his change of opponent as he was leaving the locker room. The Swede had succumbed to a virus.
He said: "A guy in the locker room told me, 'You're not playing Soderling'. I said, 'Yes I am'. The Brazilian guy had just told him he got in. Then I got all my stuff and walked on court.
Fun
"At first I was a bit disappointed because I wanted to play a top-10 guy, but on the other hand to play a lucky loser is a good chance to get into the second round.
"I was enjoying it, I just wanted to go out there and have fun because I was injured for so many months."
Sorensen started poorly, recovered to win the second set but was then struck down with cramp, initially in his hand, and called it a day with the score 6-0 3-6 6-4 1-0.
Sorensen first felt the problem at 3-3 in the first set, and he said: "I hit a forehand and suddenly my thumb was cramping, then my legs started to cramp and my left arm, and I had no answer to that. I don't know if it was the tension."
Sorensen's run in New York has made him rethink his retirement plans, and he is hoping to be able to play Davis Cup again for Ireland next year.
He said: "Now I have to think about it. I really want to keep playing. But I had so many injuries and after a certain time you just can't deal with it any more."
It was a sad end to Ireland's efforts at the tournament - Conor Niland had also qualified but his first-round match with top seed Novak Djokovic also ended with him being forced to quit due to food poisioning.