Novo happy with shoulder
Novak Djokovic says there will be no excuse on the fitness front if he fails to win the ATP World Tour Finals in London next week.
Last Updated: 19/11/11 5:49pm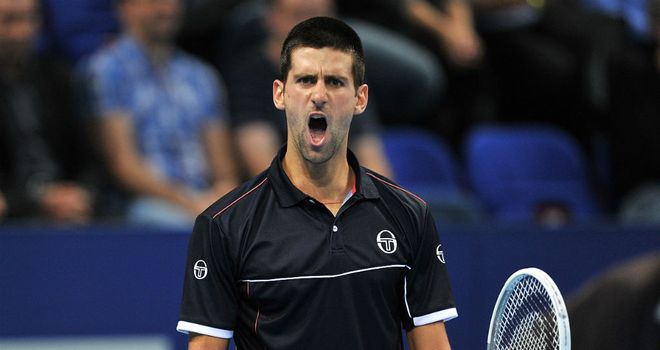 Novak Djokovic says there will be no excuse on the fitness front if he fails to win the ATP World Tour Finals in London next week.
The world number one has found his arduous campaign catch up with him in recent weeks, with back and shoulder problems forcing him to skip several events.
He had to withdraw midway through the Paris Masters last week after a recurrence of the shoulder problem but the Serb believes he is back to full fitness heading into the season-ending tournament.
"I have been serving almost 100% in the last two or three days so for me the shoulder is fine at this moment," he said. "I can say that it is recovered and ready to compete.
Highest level
"
Everybody agrees this tournament is a crown for all the achievements of the year for most of the players.
"Every match is at a very high level, probably the highest level of our sport, and you have to be on top of your game to win it."
Djokovic has dominated the season, winning three grand slams, with his success at Wimbledon the crowning achievement.
"I was even thinking of going to Wimbledon to have a cup of tea as a member and really experience the club a little bit differently from the tournament," he added.
"It's just the most prestigious, the most valuable event you can think of in our sport. It was the event I always dreamt of winning.
"I asked the groundsman to have a piece of the grass. I could not get that but I got the net from the final so I put it in a very special place at home."
The 24-year-old will begin his campaign against Tomas Berdych on Monday after being drawn in Group A alongside the Czech, world number three Andy Murray and Spain's David Ferrer.
Confidence
Meanwhile, world number two Rafael Nadal does not enter the week full of confidence considering the form of Andy Murray and the resurgence in recent weeks of Roger Federer.
The Swiss ace won in Basle and Paris while Murray won three-in-a-row in Bangkok, Tokyo and Shanghai.
"Roger is winning, Andy had a very good time in Asia, winning tournaments," said the former number one. "Djokovic must have unbelievable confidence so I put them as the favourites because they are very good and they are playing well.
"The indoor court is more favourable for them but we'll see. I don't like to talk about favourites."
First up on Sunday evening is American Fish, making his debut at the tournament a month before his 30th birthday, and Nadal added: "He's had a fantastic season and it's a good inspiration how he has improved. He's an aggressive player so it will be a very difficult match."