Djokovic falls to Tipsarevic
Defending champion Novak Djokovic suffered a 7-6 (7-2) 6-3 defeat to fellow Serb Janko Tipsarevic in their quarter-final at the Madrid Open.
Last Updated: 11/05/12 9:56pm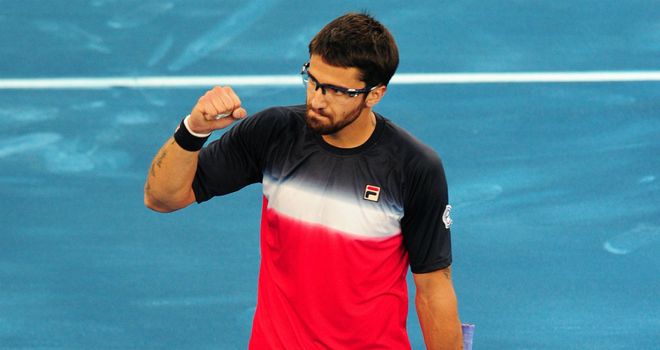 Top seed and defending champion Novak Djokovic suffered a 7-6 (7-2) 6-3 defeat to fellow Serb Janko Tipsarevic in their quarter-final at the Madrid Open.
Tipsarevic fought hard to hold serve and force a tie-break in the first set, which he dominated and went on to outplay world number one Djokovic in the second set.
Djokovic, like world number two Rafael Nadal who lost on Thursday, threatened not to return to the tournament unless they change back to normal claycourts after using blue clay this year.
"I want to forget this week as soon as possible and move on to the real claycourts," he said.
"It took me at least a week to try to get used to this surface and somehow find a way to win matches and play a decent level of tennis.
"There is no discussion in my eyes, it's very simple. No blue clay for me."
Tipsarevic's reward is a semi-final meeting with third seed Roger Federer, who saw off David Ferrer.
Federer prevailed 6-4 6-4 against his fifth-seeded Spanish opponent and is now two victories away from regaining the title he won in 2006.
Verdasco thrashed
Earlier on Friday, Fernando Verdasco came back down to earth with a bump. Less than 24 hours after his shock win over Rafael Nadal, Verdasco was thrashed 6-1 6-2 by Tomas Berdych.
The Spaniard had taken more than three hours to upset Nadal on Thursday, posting his first win over his compatriot in 14 attempts, and he cut a weary figure against Berdych's powerful strokes.
Berdych, who lost just two games in dispatching Gael Monfils in his previous match, gained control early on control and refused to relent as he eased to victory.
The Czech lost just nine points on serve in the match and has yet to lose his delivery in three outings so far on the Caja Magica's blue clay.
Berdych will face Juan Martin Del Potro on Saturday for a place in the final.
Del Potro's perfect 10
Del Potro remains unbeaten on clay in 2012 following a comfortable victory over Alexandr Dolgopolov in his quarter-final.
The Argentine, a winner in Estoril last week, made it 10 wins out of 10 on the surface with a 6-3 6-4 triumph on Friday. He has yet to drop a single set on clay this season.
Del Potro needed just 84 minutes to reach the last four, breaking his opponent's serve three times in total.
Dolgopolov's 'mix it up' game had been tipped in some quarters to cause problems but in the end it was Del Potro's power play which prevailed on the slick surface.