Rosol: I can beat anyone
Lukas Rosol believes he has what it takes to go all the way at Wimbledon after beating Rafael Nadal.
Last Updated: 29/06/12 2:58pm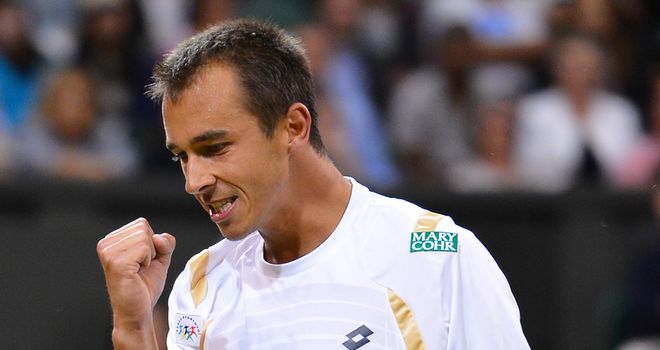 Lukas Rosol believes he has what it takes to go all the way at Wimbledon following his shock win over Rafael Nadal.
The 26-year-old Czech was largely unknown on the professional tour, with Rosol registering just three wins at grand slam level.
However he stunned the tennis world with a life-changing five-set win over second seed Nadal.
And although the Spaniard was gracious in defeat he quickly ruled out Rosol's chances of winning the title.
"How old is he? Twenty-six. He didn't before," the Spaniard said, referring to Rosol's modest CV.
But, after producing a performance that included a stream of nerveless winners - he served out for the match with three aces - Rosol was not willing to rule anything out.
"I think if I beat Rafa I can beat anyone," he said.
"It is just tennis and everyone is human. Thus is sport. Everybody can lose and everybody can win. We're just people."
Concentrated
Nothing seemed to faze Rosol as he continually found ways to frustrate Nadal, from dancing on the spot as he received serve to planting one- and two-handers either side of the Majorcan.
"It's not fair," was Nadal's complaint to the umpire, while the players even collided at a change of ends.
Rosol would not be distracted, though, using a 45-minute delay before the decider, while the roof was closed, to ramp up his concentration levels even more.
"After the fourth set I had a little bit of pain. I just came to the locker room and took a shower. When I went back on court, I didn't feel anything," he said.
"I was just like somewhere else. I believe in myself and knew that I could make it. I didn't want to show Rafa what was inside me. I was so concentrated and in a trance a little bit."
All that focus understandably unravelled at the end, with Rosol falling flat on the turf and soaking up the adulation of the crowd.
"It was like I didn't know who I had beaten. I just felt that I had won," he said.