Perry's son backing Murray
Fred Perry's son is backing Andy Murray to end Britain's 76-year wait for a men's champion at Wimbledon on Sunday.
Last Updated: 07/07/12 2:09pm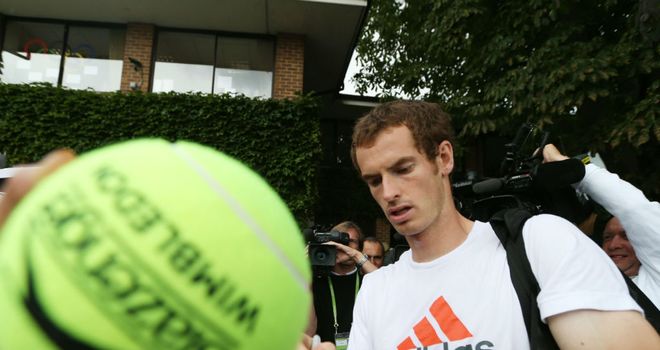 Fred Perry's son is backing Andy Murray to end Britain's 76-year wait for a men's champion at Wimbledon on Sunday and believes his father would have been proud of the Scot.
David Perry, now 68, was adopted by Wimbledon legend Fred in 1953. He was Fred's fourth wife Bobby's son and later ran the family's famous sportswear business before moving into real estate.
While Fred died in 1995 without seeing a British successor come through to land the men's singles trophy, the Perry clan have since seen Tim Henman repeatedly go close, and Murray lose three semi-finals prior to Friday's breakthrough last-four triumph over Jo-Wilfried Tsonga.
Alex Perry, David's son and Fred's grandson, was on Centre Court to watch Murray tame Frenchman Tsonga over four sets.
At home in Paradise Valley, Arizona, David Perry hopes Murray can go one step further, and he is certain his father would believe another British champion is long overdue.
"I think he'd be thrilled that someone in a Jubilee year, an Olympic year in London, has achieved what Andy has," Perry said. "He'd be delighted somebody has finally got a shot at the title.
"I think my father would be proud that finally someone's come along who's good enough to take a shot at it.
"Dad would have said, 'It's been 75 years, it's time for somebody else to get there'.
"Andy's come close before but this is the first time he's had the chance to bring it home."
Thrilled
Fred Perry turned professional in 1937, making him ineligible for the grand slams, and it was a step that saw him ostracised by the tennis establishment.
He moved to America and became a US citizen in 1939. David Perry was born in Beverly Hills in 1943 and there is not a hint of a British accent in his voice.
He nevertheless has kept close tabs on British tennis, initially through his management of the Fred Perry business during the 1970s, when he was a regular at the grand slams, and now more from a distance.
"I'm thrilled Britain is behind Andy," he said. "It's wonderful to see it when the country gets behind somebody like they're getting behind him.
"What will be wonderful will be to see good support on Sunday.
"I saw him play Tsonga on TV and I'll watch the finals, cheering Andy on. It's going to be a great match, why wouldn't it be?
"Federer obviously wants to win for a seventh time and then Andy's obviously got all of England and Scotland behind him.
"I remember Virginia Wade winning in 1977 very clearly and that was a great occasion."
Perry is optimistic Murray will seize his big chance, and he half suspects it may be the 25-year-old's best, and perhaps only, shot at making British sporting history.
"There won't be anybody else that is going to do this for a while," Perry said. "Will he have another shot at winning it? I don't know.
"He had a definite advantage with the way the draw turned out this year. I don't think he'd have wanted Rafael Nadal again in the semi-finals, but you've still got to win against whoever you play.
"He's playing at a very good level at the moment. Let's see what plays out in the final. Everybody will be excited. It'll be great if he does it."