Sharapova rides luck
Maria Sharapova reached the US Open quarter-finals for the first time in six years with a gutsy win over Nadia Petrova.
Last Updated: 03/09/12 8:33am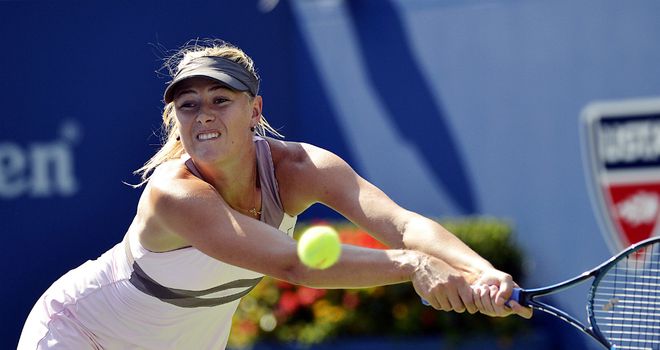 Maria Sharapova reached the last eight of the US Open for the first time in six years with a 6-1 4-6 6-4 win over fellow Russian Nadia Petrova.
Sharapova won six of the last eight games to seal a topsy-turvy match in which she twice lost four games on the bounce before the weather came to her aid.
She rolled through the first set in just over 30 minutes but lost her way early in the second as Petrova broke twice to lead 4-0.
Petrova then seemed to hit a wall and gave up her own serve twice as Sharapova battled back to 4-4, but one more Petrova break ensured the match went to a deciding set.
She also took a 2-0 lead in the third before the match was briefly halted by rain, which played into Sharapova's hands as she regrouped in fine style to move into a last-eight clash with Marion Bartoli, who enjoyed a fine three-set win over Petra Kvitova.
Petrova said: "Maria looked hesitant and she couldn't get a hold of her game. But then after the rain break, actually it went in her favour because she had time to think, regroup, and talk to her coach.
"Then she came out completely cool and collected. She started playing big tennis. Unfortunately, luck was on her side today."
Statistic
For Sharapova it was an 11th successive victory in matches that have gone to a deciding set.
"It's a nice statistic," said the Russian, who admitted she had spoken to her father on the phone during the rain delay.
"It certainly wasn't on my mind because every match is different, different circumstances, whether you have started slow and come back in the second set or whether you had a letdown in the second.
"No matter how you start the match, it's always how you finish. Whether it's an hour or whether it's three hours that you're out there, I don't want to give up until the last point.
"That's pretty much the mentality I have."
Meanwhile, Victoria Azarenka continued her trouble-free run with a 6-2 6-2 victory over Georgia's Anna Tatishvili that took her tally of games conceded to 10.
It will be her first quarter-final in New York and, although she is the top seed and has looked as impressive as any player, she does not count herself as the favourite.
She said: "I think there are so many great players in the draw still. I feel like Serena (Williams) is definitely the favourite here. She's been doing amazing this summer, plus being American playing in New York.
"Also Sam being defending champion is definitely a favourite as well. Maria is playing well. There's definitely a lot of players who can pull out the win."
Sam Stosur, who ended the run of Laura Robson earlier on Sunday, awaits Azarenka in the last eight.