Heather Watson thrilled to make history with Japan Open success
Heather Watson said she was very proud to end Britain's 24-year long wait for a victory on the WTA tour.
Last Updated: 15/10/12 8:26am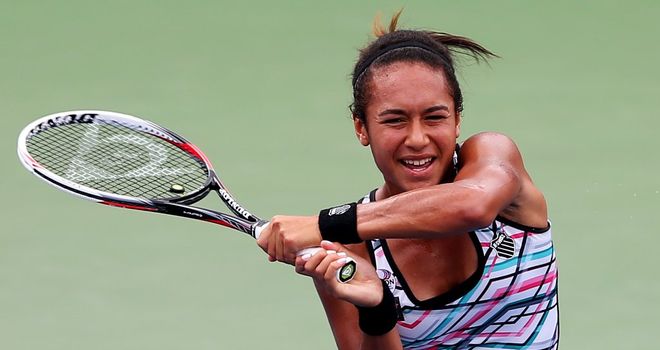 Watson beat Taiwan's Chang Kai-chen 7-5 5-7 7-6 in a dramatic Japan Open final to go one better than compatriot Laura Robson, who lost in the final in Guangzhou last month.
"I was in the changing room afterwards, changing my clothes, and I thought to myself, 'Did I really win?' So it's just starting to settle in," said Watson, who is now up to 50th in the world rankings.
"I've worked so hard for this moment. That's why I practised so hard, ran all those miles, lifted all those weights - for moments like this.
"Being in the top 50 was a real goal for me and it will push me to make harder goals for myself."
Watson took inspiration from Andy Murray's recent exploits at the US Open, where he became the first British grand slam men's singles winner for 76 years.
"Britain has been breaking quite a few records recently," said Watson. "I'm happy I could break another one today. I'm proud to do this for my country."
However, Watson was on the brink of defeat at 4-5 in the final set, saving four match points before winning the decisive tie-break.
"I was already thinking how I was going to cry in the locker room (if she lost)," said Watson with regard to the match points. "I'm really proud of myself for getting through that.
"Knowing Laura did so well in China a few weeks ago definitely motivated me this week.
"Laura and I have come through the rankings together - juniors and seniors - and we're both very competitive so, when we see the other doing well, it pushes us. But I think it's great we're really good friends off the court as well."
No regrets
Watson served a double fault on match point at one stage but added that Chang is "an amazing returner, so I wanted to go for it. What I've learned from my coaches is to go for it and not hope they miss.
"As you get better and play the top girls, you've got to go for it, because they won't give it to you. So I went for it and I don't regret it.
"If I had lost the match, I probably would have regretted it, but I ended up winning, so I'll get over it!"