Elena Baltacha rules out retirement and looks to return to competitive action
Elena Baltacha has discounted the possibility of retirement and is now itching to return to professional tennis.
Last Updated: 16/10/12 5:42pm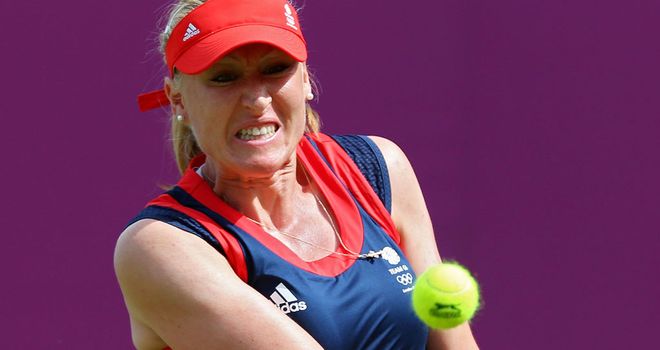 The former British number one, 29, has not played since the Olympics, where she announced she was planning to have foot surgery that would keep her out for six months and could signal the end of her career.
But having undergone the operation and had some time away from the game to consider her future, the Scot is adamant she still has the drive and desire to return to competition.
However, she sounded a note of caution and acknowledged that her comeback plans rely on how her body copes with her latest injury setback.
"I do really want to come back," Baltacha stated. "Over the last couple of months I've realised I do want to compete again.
"The competition is the one thing I really miss about it, when it's 4-4 in the third set and 30-30. You can't really replace that playing a game of cards.
"But it all depends on my recovery. I remember when I had my back surgery when I was 19 and it wasn't really that much of a blow because you recover so quickly. But I'm 29 now and it's completely different.
"So we'll see what my body says. If I can't come back then I'll accept it and move on and look forward to getting on with the next part of my life."
Changing of the guard
There has undoubtedly been a changing of the guard in British women's tennis this season, with Heather Watson and Laura Robson now the country's top two players and making waves on the WTA Tour.
Robson, 18, reached the fourth round of the US Open and became the first British player for 21 years to make a WTA singles final in China last month.
That feat was then surpassed by 20-year-old Watson, who on Sunday ended Britain's 24-year wait for a WTA singles champion with victory in Osaka to take her just into the world's top 50.
Baltacha - who reached a career high of 49 in the world rankings in 2010 - is thrilled to see the two young players thriving and believes the friendly rivalry will push them forward, as it did for her and Anne Keothavong.
"It's so good to see them doing so well," said Baltacha. "I'm really delighted for both of them.
"I remember my rivalry with Anne, seeing what she achieved and thinking, 'I can do that, I can be better'. It really drives you on."