Juan Martin del Potro qualifies for London but feels sympathy for Rafael Nadal
Juan Martin del Potro has expressed sympathy for Rafael Nadal after sealing his place at the ATP World Tour Finals.
Last Updated: 28/10/12 10:05pm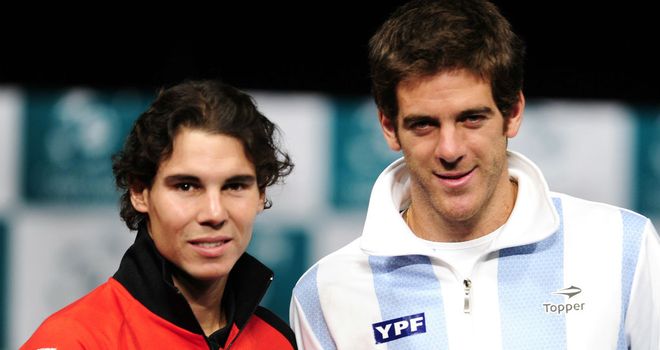 The Argentine had already boosted his hopes of reaching the eight-man end-of-season showpiece in London by winning the Erste Bank Open in Vienna last weekend.
But his spot was confirmed on Thursday when Nadal revealed that his long-standing knee injury would prevent him from competing at the O2 Arena next month.
While pleased to qualify, 2009 US Open champion del Potro acknowledged that he felt for Nadal having experienced a lengthy injury absence of his own due to a wrist complaint.
"I'm sad for Rafa, he's really trying in his comeback," stated the South American. "But it's not easy after such a long time away. I had the same feeling with my wrist.
"We miss Rafa a lot on the tour. He is one of the best players in history, he will come back strong.
Reward
"I'm sure it will be very soon. He will be ready to win a big event again, I know that he can play better than me when he makes his comeback, I wish all the best to him."
On reaching the World Tour Finals, he added: "For me it's a gift for my effort during the year.
"It's only eight players fighting for one tournament. It's the best eight players of the year, so it's very important to me.
"I'm so glad to be there once again. I will be fighting against the big names and maybe I'll have a chance to make another final."
Del Potro joins Roger Federer, Novak Djokovic, Andy Murray, David Ferrer and Tomas Berdych in having booked his place in London with Jo-Wilfried Tsonga, Janko Tipsarevic, Richard Gasquet and Nicolas Almagro heading the list of candidates for the remaining two positions.