Lucie Safarova beats Jelena Jankovic as Czechs retain Fed Cup
The Czech Republic won a second straight Fed Cup after Lucie Safarova provided them with a 3-1 lead over Serbia.
Last Updated: 05/11/12 1:12pm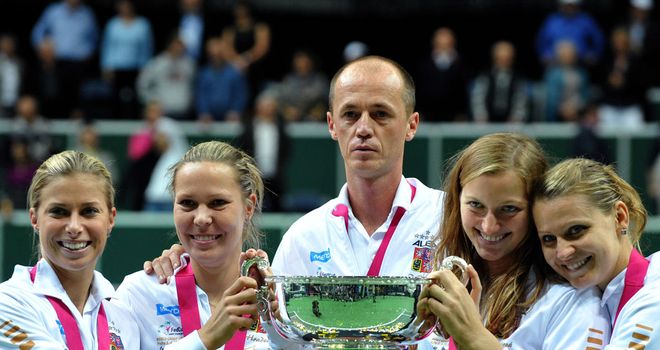 Safarova defeated 22-ranked Jankovic in an hour and 17 minutes, earning 32 winners against Jankovic's eight.
"It's fantastic because it happened at home, in Prague, in front of our fans," said Safarova. "It was one of the best games I've played in my career."
"It was unbelievable. She hardly missed one ball," added Czech team captain Petr Pala.
The Czechs had fallen behind earlier on Sunday after Ana Ivanovic reduced their two rubber lead from Saturday to 2-1 after beating Petra Kvitova 6-3, 7-5.
Kvitova, still visibly suffering after a cold forced her to pull out of the WTA Championship last week, lost her first rubber after an 11-game Fed Cup winning run.
"I really started swinging from the beginning and it worked well for me," said Ivanovic.
"I was a lot calmer today and I was sort of playing the game that I've been playing lately.
Kvitova said: "I felt better and I found it easier to breathe than on Saturday. But I lost a lot of strength yesterday and I was also drained emotionally.
"I lacked energy, the doctor gave me some sugar during a bathroom break but it didn't help much.
"But to win the Fed Cup at home in front of the home crowd, that's the best you can experience in your tennis career."
The Czech Republic lifted the trophy last year after beating Russia in Moscow 3-2.