ATP World Tour Finals: Andy Murray ready for another battle with Novak Djokovic
Andy Murray and Novak Djokovic are braced for another draining encounter when they meet in London on Wednesday.
Last Updated: 07/11/12 6:51am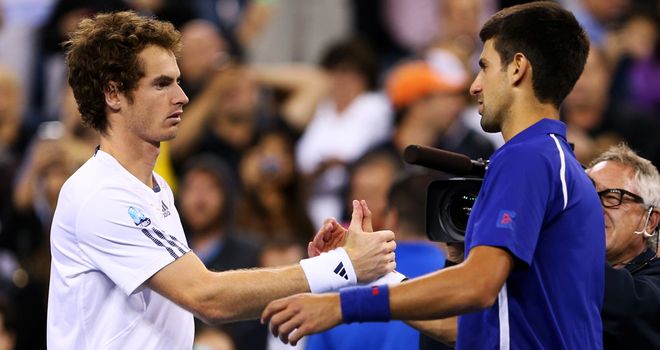 Their head-to-head in 2012 is tied at three-all and both grand slam meetings have lasted almost five hours, with world number one Djokovic coming out on top in the Australian Open semi-finals before third-ranked Murray turned the tables to win his first grand slam title at the US Open.
The last time they met was in the final of the Shanghai Masters in October, a three-setter that went on for three hours and 21 minutes in which Murray held five match points but Djokovic eventually came out on top.
"For me anyway there's an understanding of how much you have to put into the match to win it," said British number one Murray. "I think that's just the nature of these matches.
"Both of us are very good retrievers, so often the points will go on a lot. Sometimes you feel like you need to win the point two or three times, which is tough and can be a little bit tiring.
"But we've played each other enough to know what to expect. We do practice with each other quite a lot, too. But it's never quite the same as the matches, that's for sure."
World number one Djokovic, who like Murray opened his Group A campaign with a win on Monday, is also expecting more of the same.
"When I'm playing Andy, I need to be ready for long rallies and a physically demanding match," said the Serb. "So I'm going to have a day to recover and get ready for my next challenge.
"Playing against Andy is always a big challenge. He has had lots of success in London, playing in his town, in front of his crowd, so he'll have big support. It's a big match.
"We know a lot about each other. I'm sure that we're going to come up with some really good tennis."
Self-belief
The ATP World Tour Finals is Murray's first tournament back in London as a grand slam champion after he finally broke his major duck in New York.
Apart from a certain inner calm, world number three Murray has not yet felt too many benefits on the court, but he hopes they will come.
He said: "It's hard to say because I've lost a few very tough matches since. But I hope when I'm playing the best players in the world I'll believe in my shots a bit more and make sure to be aggressive when I can.
"I thought I did a good job of that (in his opening win over Tomas Berdych). I tried to move forward and take his time away a little bit, which sometimes when I played him in the past, I'd let him dictate a lot of the points. I didn't feel like I did that.
"They're the things that, rather than it necessarily being just (a boost in) confidence, also just learning.
"Having won a few of the big events this year, and having lost a tough one in Australia against Novak, and at Wimbledon against Roger (Federer), I've learned a lot this year how I need to play those big points in big games."