Juan Martin Del Potro thrilled by ATP World Tour Finals win over Roger Federer
Juan Martin Del Potro was delighted to gun down Roger Federer and reach the semi-finals of the ATP World Tour Finals.
Last Updated: 11/11/12 10:41am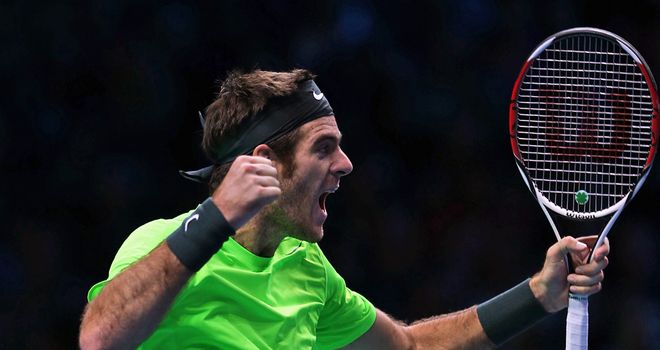 The Argentine knew that only a victory would guarantee his last four spot and he produced his best tennis when it mattered to win 7-6 (7/3), 4-6, 6-3 and end Federer's 12-match winning run at the season-ending event.
"I'm so happy to beat Roger once again," said del Potro, who also handed the 17-time Grand Slam winner his only other indoor defeat in the last two years in the final of Federer's hometown tournament in Basle last month.
"I know he's the favourite for you," Del Potro told the O2 Arena crowd, "but you are so respectful for me.
"I would like to say thankyou for cheering us both."
Federer had won 13 of the previous 16 meetings between the pair and the modest Del Potro said he needed some good fortune to seal victory.
"I was a little lucky towards the end of the match. Always when you beat these kinds of players you need luck on your side but I played well," he said.
"I took the break-point chances in the last set, then I served really well in the last game. I was very nervous but I closed out the match."
Del Potro's semi-final opponent will be either Novak Djokovic or Andy Murray, Saturday evening's final (dead-rubber) Group B match between David Ferrer and Janko Tipsarevic deciding which of Del Potro and Federer will top the standings.
"It's going to be a tough match against Djokovic or Murray, but I'm so excited to get into the semis," said Del Potro.
Federer disappointed
Federer said of his defeat: "It's disappointing. I had a good feeling going into the match, definitely the right game plan.
"It's indoor tennis, he has a big serve and all those things. But still I expect myself to get more returns into play.
"But it's important to move on right now. Mentally, it's important to look ahead and rest because it's a quick turnaround.
"I tried everything I could and was a bit frustrated at times, but it shouldn't affect me tomorrow."
Federer does not believe playing two days in a row will be a disadvantage for him or Del Potro, but admits that could become a factor if either makes it through to Monday's final.
The 31-year-old, meanwhile, admitted a major source of disappointment was that his defeat eliminated world number five Ferrer from the competition before his final match.
The Spaniard has been one of the players of the season, winning seven titles, the best on the ATP World Tour, and reaching the semi-finals at the French Open and US Open.
Federer added: "I was thinking more about David than I was thinking about Andy and Novak, to be honest. I really wanted to give him a chance and give myself the best possible preparation for the semis. I really hoped I could win.
"It's not that I prefer David over Juan Martin, not at all, but I think he's had a stellar season.
"It was a given I was going to give my very best. But I'm more disappointed for him than I am about losing today."