Tomas Berdych targets historic Davis Cup victory over defending champions Spain
Czech No 1 Tomas Berdych says the Davis Cup final with Spain is the most important event of his career.
Last Updated: 15/11/12 4:15pm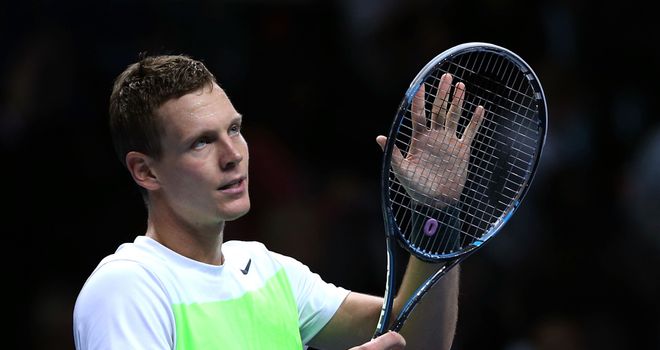 The Czechs have not won the event since 1980 - when a team led by Ivan Lendl did so as Czechoslovakia.
And when they last reached the final three years ago they were whitewashed 5-0 by the Spanish.
This time they are playing on fast indoor hard courts instead of slow Spanish clay, and the defending champions travel without their injured talisman Rafa Nadal.
That gives the hosts real hope of matching the achievement of their women who won the Federation Cup two weeks ago.
"So far, it's the biggest moment of my career," said the world No 6 Berdych said. "It is our goal to bring the trophy back home after so many years."
He will fancy his chances against Nicolas Almagro, though he says the fact he has beaten the Spaniard in four of their five matches this season will count for nothing.
"All that will be erased and we'll start from zero again," the big-serving Czech said, though he is hoping to make home advantage count. "The court is perfect. They prepared it exactly as we wished."
Spain's top player David Ferrer has won seven titles this year, his best year on the tour, and he is expecting a tough battle in Prague's O2 arena. He opens the tie against Radek Stepanek on Friday.
"It is to be a really difficult match," Ferrer said after Thursday's draw. "When I play him (Stepanek), it's always a very close match."
Ferrer has a career 6-3 record against Stepanek and beat him in five sets when the two teams met in the final three years ago.
"I remember the final in 2009. It was an amazing match," Ferrer said. "This time, it's going to be a similar match on a different surface. But I have to play my best tennis to beat him."
Stepanek will start second favourite against Ferrer, though not as big an underdog as had the tie been on clay.
"I'll try to use the surface to play my aggressive tennis," he said. "Ferrer is known to be a big fighter but anyone can be beaten."