Davis Cup final: Radek Stepanek delighted after winning deciding rubber in Prague
Radek Stepanek was ecstatic after his win over Nicolas Almagro gave the Czech Republic victory in the Davis Cup final.
Last Updated: 19/11/12 7:43am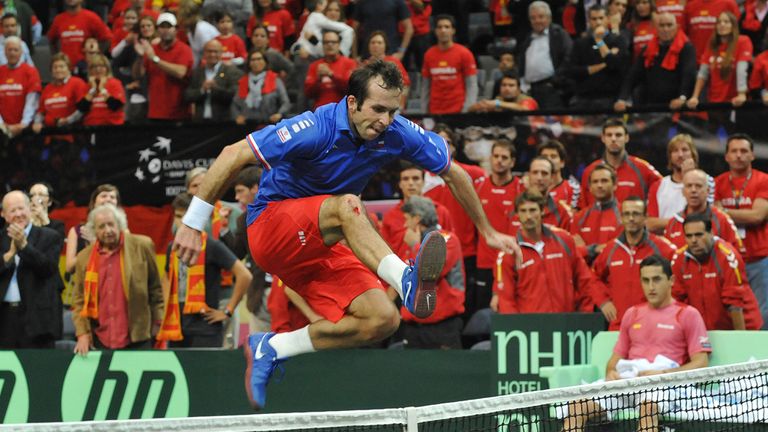 Despite being ranked 26 places below his Spanish opponent, Stepanek produced a superb display in the tie's deciding rubber and scored a 6-4, 7-6 (7-0), 3-6, 6-3 victory in front of his delirious home crowd in Prague.
"I was dreaming about it my whole life," he said, looking at the trophy. "It's amazing. I cannot describe what I'm feeling right now.
"I was playing very aggressive today. I didn't want to leave anything behind. I wanted to be the one who is active, who is controlling the game.
"It paid off. Even though I lost the third set I had no doubt I was playing well tactically.
"I came on the court with a mind-set that I have to stay calm, hungry, motivated, to concentrate and that's what I did tremendously well today."
Victory for the men's team completed a rare double after the Czech Republic's women landed the Fed Cup earlier this month.
"It's amazing for such a small country," said Stepanek.
Also in the 14,000 02 Arena were the 1980 men's team, including Ivan Lendl, which won the Davis Cup under the old Czechoslovakia flag.
"They've been our inspiration, our idols," said Stepanek. "They are legends and that we are joining them is amazing."