Luckless Andrea Petkovic ruled out of Australian Open
Luckless Andrea Petkovic has been ruled out of the Australian Open after suffering a knee injury in the Hopman Cup.
Last Updated: 30/12/12 4:07pm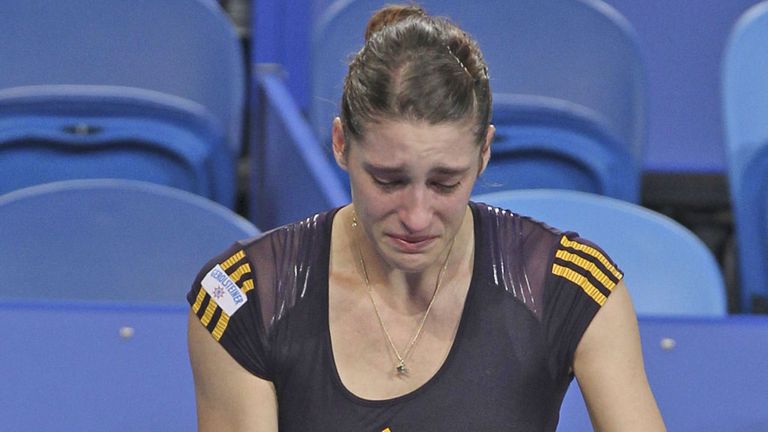 Petkovic's injury almost created an unusual piece of tennis history.
The team was struggling to find a German to replace her, and Donna Vekic of Croatia was set to become the first player to represent a nation other than her own in the 25-year history of the Hopman Cup.
But Tatjana Malek has answered an SOS and is flying in from Miami to replace Petkovic.
Poor Petkovic had powered into the top 10 in the world last year when she suffered back and ankle injuries which forced her out of action for seven months, her ranking tumbling to 126 as a result.
She had to retire after winning the first set of her match in Perth against Australia's Ashleigh Barty, and scans have revealed she has ruptured her meniscus which means a month of recuperation and no trip to Melbourne.
"I had an MRI this morning and they found out it is a rupture of the medium meniscus," Petkovic said.
"They don't know yet if they have to trim it. If they do it will be fine and I will only be out for a month. I could probably be playing already after two weeks, hitting balls. That would be really great.
"If they have to sew it up again it will take two to three months, but nonetheless I'm quite relieved that it wasn't the anterior cruciate ligament as it was a very similar pain and symptoms to 2008 when I had my ACL torn in Australia.
"My team and I are able to take it as tragically funny. People are strange and actually get used to chaos in their life, and I got used to a lot of mess this year.
"Every bad thing that could happen has happened to me so there's nothing there to surprise me anymore. I'm just hoping I can have a quick recovery."