Italy beat Germany in the Hopman Cup as Francesca Schiavone overcame illness to triumph
Francesca Schiavone played a key role as Italy came from behind to defeat Germany 2-1 in the Hopman Cup in Perth.
Last Updated: 02/01/13 10:58am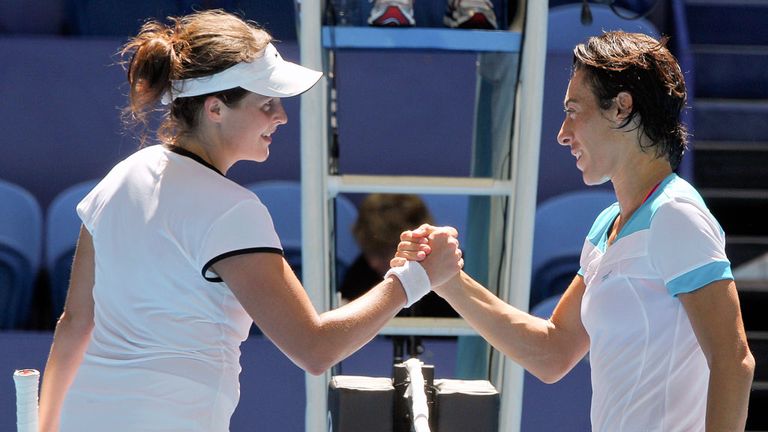 The Germans took the lead when Tommy Haas beat Andreas Seppi 7-6 7-6 but Schiavone recovered from a set down to defeat Tatjana Malek 3-6 6-3 6-3 and level the tie.
Schiavone and Seppi then teamed up to defeat Haas and Malek 6-4 7-5 in the crucial doubles rubber.
The men's match was hard-fought and Seppi was in position to win both sets but, having broken to lead 5-4, he failed to serve out set one and lost the tie-break 7-3.
In the second set, Seppi saved break points at 1-1 and 3-3 before going 6-3 up in the subsequent tie-break but Haas fought off four set points and eventually won the breaker 9-7.
"It was one of those matches," said Haas. "It's never over until the last point really.
"Overall I think we both played a really good match, high quality tennis overall and very competitive. It came down to a few points here and there."
Schiavone took a 3-0 lead against Malek, who only arrived in Perth 10 hours before taking to the court, having flown over 11,000 miles to replace the injured Andrea Petkovic.
She quickly found her feet though and reeled off eight games in a row, utilising her big serve to good effect while Schiavone began to make errors.
However, even though she was suffering from illness, the Italian recovered from a break down in set two, breaking to win the set when Malek double-faulted.
And Schiavone then broke again to lead 3-1 in the deciding set, before going on to complete a hard-earned victory.
"I think she played great after 3-0 for me, but then I played better," Schiavone said. "For her it was not easy, after she just arrived. I have a stomach pain but it's OK. I can resist."