Wizards of Oz
Tim Clement provides an in-depth preview and offers up his best bets for the Australian Open.
Last Updated: 11/01/13 12:12pm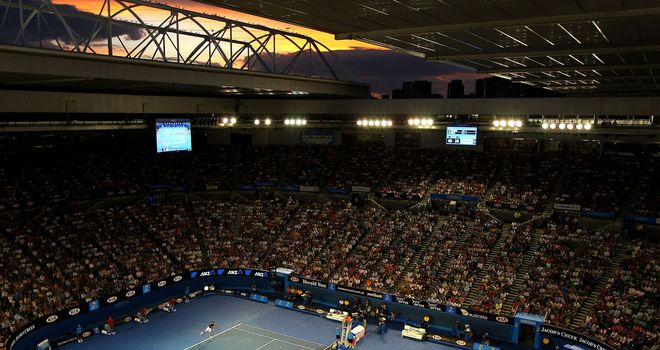 Once considered the lesser of the four majors, the Australian Open is now right up there with the other three and leads the way both technologically and financially.
Melbourne Park boasts not one but two courts with retractable roofs and is the best paying event on tour since increasing prize money to AUS$30 million.
Having once been infamous for throwing up surprise winners, the Australian Open now commands the most thorough of preparations from the game's top names as they attempt to conquer the conditions and gain the initiative in the season's first major.
The weather
It comes as no coincidence that two of the tour's fittest players prevailed in the heat last year, with Novak Djokovic and Victoria Azarenka outlasting all that came their way. It will be no different this year with temperatures forecast to hit 40°C during the first week. The season's first Grand Slam also provides a stern test for fans, with coverage of the morning session beginning at 12.00am UK time.
The court
Initially a grass event, the Australian Open has been played on the state-of-the-art Plexicushion since switching from Rebound Ace in 2008. The current surface, which is also used in all of Australia's warm-up events, plays quicker than its predecessor, at a pace similar to the US Open, while offering better grip and heat resistance.
Last year
Men's champion - Novak Djokovic
On the back of one of the greatest campaigns the sport has ever seen, the Serb put in a performance of epic proportions, producing a display of unbelievable physical endurance. Having ousted Andy Murray in a five-set semi-final thriller, Djokovic came out on top in the longest ever Grand Slam final against great rival Rafael Nadal.
Women's champion - Victoria Azarenka
Azarenka's 6-3 6-0 victory over Maria Sharapova may not have provided the same entertainment to what was to follow in the Rod Laver Arena, but that would have mattered not to the Belarusian. Not only did it represent her first Grand Slam title but it elevated her to world number one, where she has remained ever since.
The leading contenders (and Sky Bet odds)
Men's favourite: Novak Djokovic - evens
The reigning champion and world number one is the man to stop at Melbourne Park as he pursues a third successive Australian Open title. Having claimed his maiden major crown here back in 2008, the season's opening Grand Slam has proved the Serb's most fruitful, with three of his five titles coming Down Under. Last year saw the world number one struggle to repeat his dominance of 2011, however, as he failed to add to his major titles tally and briefly lost his place at the top of the rankings, only regaining it by triumphing at the World Tour Finals.
Andy Murray - 5/2
The watching world will be eager to see what Murray can produce in 2013 after ending his agonising wait for a Grand Slam title at the US Open. Having twice fallen at the final hurdle in the Rod Laver Arena, the Scot is being heavily backed to exorcise more demons Down Under, as the most supported contender in Sky Bet's outright book. Much has been made of Nadal's absence, but it is unlikely to have a major bearing on Murray's chances, with the world number four to be seeded in the same half as either Djokovic or Federer.
Roger Federer - 5/1
The Swiss star may have cemented his status as the game's greatest with a 17th Grand Slam title last season, but a decline is anticipated in 2013. Rated behind Murray in the Australian Open betting and at 7/1 to end the year as world number one, Federer is no longer considered the man to beat on tour. The 31-year-old should, however, benefit the most from Nadal's absence, with his great adversary having triumphed in their previous five Grand Slam meetings, including at Melbourne Park in last year's semi-final.
Juan Martin Del Potro - 14/1
The 'Tower of Tandil' well and truly put his long-term injury problems behind him in 2012, returning to the top eight and claiming four titles. Three Grand Slam quarter-final appearances represents an improved level of consistency, but he is yet to produce anything close to the display which saw him shock the tennis world to win the 2009 US Open. At 24, the Argentinian should be primed to deliver his best tennis in 2013 and, at 10/1, is considered the most likely to disturb the elite echelons of the game.
David Ferrer - 25/1
While recent history implies it will simply be the best of the leading pack, Ferrer warrants more respect than to be simply discounted after a superb 2012. The Spaniard won more titles than any other players on the ATP Tour, triumphing on all three surfaces, and is set to climb to fourth in the world as a reward. With compatriot Nadal absent, 'The Wall' reaps the rewards of his recent achievements at Melbourne Park, being seeded fourth, making him a tempting each-way punt.
Best of the rest
Tomas Berdych and Jo-Wilfried Tsonga ( both 40/1) warrant mentions as previous Grand Slam finalists. Whether their best chances of a maiden title have come and gone is up for debate, with Berdych's only Masters or major title coming back in 2005, while it has been five years since Tsonga's final-hurdle fall at Melbourne Park. Both possess the power and precision to trouble anyone on their day but lack the defensive resilience of the top five, while the mental game with those who have conquered where they have failed is already lost before a ball has been hit.
Women's favourite: Serena Williams - 10/11
Finding punters to bet against Serena Williams will be one of the toughest challenges Sky Bet faces in 2013, with the 15-time Grand Slam champion in destructive form. Williams has steamrolled virtually all in her path since a first-round loss at the French Open, winning 36 of 37 matches heading in to the Australian Open. The 31-year-old has the added motivation of reclaiming the world number one spot Down Under, while she already has her first title of the season under her belt, losing just 17 games en route to winning the Brisbane International. The one hope for her rivals comes in a susceptibility to an upset, having crashed out in the fourth round in Melbourne last year before her French Open failure.
Victoria Azarenka - 4/1
A world number one and reigning champion would normally be an irresistible bet at 3/1, but her record against Serena detracts significantly. The Belarusian trails their head-to-head 11-1 having lost the last nine meetings, five of which came last season. As one of the fiercest competitors on tour, Azarenka will be full of fight knowing the number one ranking is on the line at Melbourne Park. An impressive start to 2013 saw her beat Sabine Liscki and Ksenia Pervak at the expense of just seven games before she pulled out of her semi-final clash with Williams, citing a toe problem.
Maria Sharapova - 7/1
The Russian is arguably the most consistent player on the WTA Tour, reaching the semis in five of the last seven majors, completing her career Grand Slam in the process last year. However, her maiden French Open title was a first Slam triumph since 2008, when she landed her only Australian Open crosn. A losing head-to-head record against Williams and Azarenka bodes badly, but if those two are off the boil then world number two is at the front of the queue by some distance.
Agnieszka Radwanska - (14/1)
Fourth seed Radwanska is considered the most likely to claim a maiden major title after reaching last year's Wimbledon final. The Pole has made the perfect start to 2013, claiming titles in Aukland and Sydney, while she has also been handed a favourable draw. As a result, the 23-year-old has been cut from 22/1 to 14s to triumph in Melbourne, although a poor head-to-head record against the top three detracts from the aforementioned positives.Best of the rest
Former Grand Slam champions Li Na and Petra Kvitova both possess the weapons to triumph Down Under but are rated as 20/1 chances following disappointing 2012s. Left-hander Angelique Kerber 22/1 holds the claim of being the only player to beat Williams in the last six months, while local girl Samantha Stosur (33/1) will have to overcome her wretched record in front of a home crowd, having failed to even make a quarter-final here.
Brit watch
While Murray will once again be the sole title hope, there will be plenty of interest in Laura Robson and Heather Watson as the young pair look to build on impressive campaigns last term. 18-year-old Robson, who was named WTA Newcomer of the Year, caught the headlines with her impressive run at the US Open and then making the Guangzhou Open final, before 20-year-old Watson went one better by winning in Osaka, becoming Britain's first WTA singles title winner in 24 years. Neither has made it past the first round proper and a second-week appearance would be an achievement for either.
Conclusion
Djokovic's impressive record at Melbourne Park makes him very difficult to oppose, while Williams' irresistible form will see her backed heavily. A double on the duo comes in just short of 3/1 and it is tough to find a solid argument to oppose. Murray must be considered the main threat after winning the US Open, although those expecting to see him conquer all those before him might have been somewhat underwhelmed by his ATP World Tour Finals showing. What he produced at the Olympics, however, tells me that we are looking at a new man, one who can go on to win many major titles under the stewardship of Ivan Lendl. It seems ridiculous writing off Federer given it was only six months back when he regained top spot by winning Wimbledon, but looking elsewhere, beyond an each-way bet, seems ludicrous. It is a totally different scenario in the women's game if Williams' old susceptibility to an upset returns but, put simply, if the American remains even near to the top of her game for the two weeks then she wins. Azarenka and Sharapova head the queue if an off-day occurs but, while Williams looms large, it is tough to back them given the wretched head-to-head records. Radwanska looks a long price after impressing last season before running out of gas, and she has also started 2013 impressively, while Kvitova, Li and Stosur have all the weapons but lack the consistency.
Tips:
Djokovic and Williams to claim titles - 2.82/1
Williams to win women's title - 10/11
Murray to win men's title - 5/2
E/W Radwanska - 14/1 (1/2 1, 2)
E/W Ferrer - 25/1 (1/2 1, 2)