Lleyton Hewitt is gunning for the scalp of Janko Tipsarevic at the Australian Open
Lleyton Hewitt was talking tough ahead of his first round match against Janko Tipsarevic at the Australian Open.
Last Updated: 13/01/13 2:19pm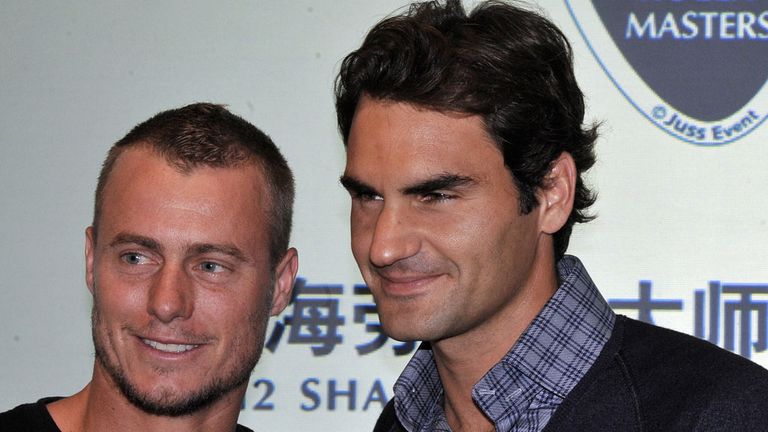 The 31-year-old comes into the first Grand Slam event of the year in confident mood after hammering Juan Martin Del Potro at the Kooyong Classic.
And with the veteran Aussie taking his place in the Melbourne draw for a record 17th consecutive time, he has no intention of bowing out early.
"I don't care. I'll knock him off, try to take his spot in the draw," Hewitt said of his difficult first round match.
"I look forward to the challenge. The last couple matches I've hit the ball as well as I can remember. I feel confident with where my game is at the moment.
"There's still a couple things I've got to try to take care of when I'm on the match court.
"But all in all, when my moving comes together and I'm serving well, my returns and obviously passing shots and counter-punching has been pretty good anyways."
Hewitt's longevity on tour is matched only by Roger Federer, with both playing their 55th Grand Slam event this week.
"I've missed a lot more Slams than Rog, too. I started before him," he said. "I've had a few more injuries than Rog and had to come back from a few surgeries, which is pretty tough.
"But to play 17 Australian Opens in a row, main draw in singles, is something not easy to do.
"To be fit, I haven't been 100 percent for all of them, but in terms of the staying power, being able to play through generations, is something I'll look back on and be pretty proud of."
Admiration
Federer paid tribute to Hewitt's staying power in the game after fighting back from so many career-threatening injuries.
"I am one of the guys who has always believed in Lleyton, even though people were writing him off and being negative and all that stuff... The guy has given everything and more to Australia, to tennis," he said.
"I can't stand it when they did that to Lleyton. The guy has given everything and more to Australia, to tennis. He's done a lot. So I admire that he's still playing, that he loves it.
"We're in a similar situation now with both of us having a family. Rankings are not important for him, but he knows he can hang with the best and he can cause upsets and still win tournaments.
"And as long as he feels that way, I hope he keeps on playing and I hope he stays injury-free for once for an entire year because that then would give him great opportunities more often than not during the year."