Victoria Azarenka plays down her status as Australian Open defending champ
Victoria Azarenka insists being the defending champion will add no extra pressure to her challenge in Melbourne.
Last Updated: 13/01/13 3:17pm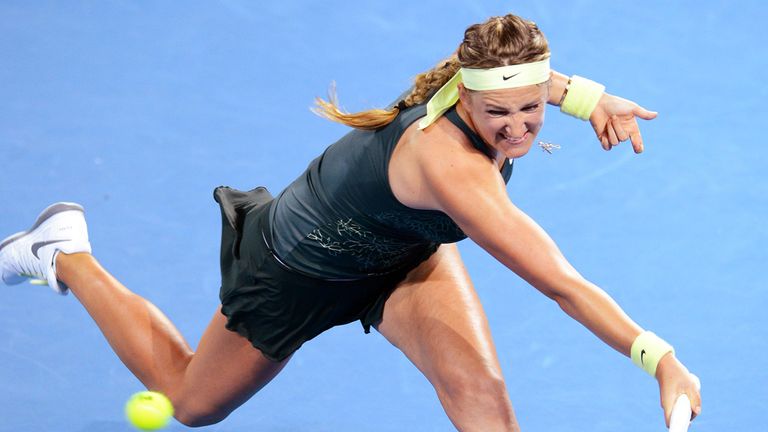 The world No 1 meets Romania's Monica Niculescu on Tuesday in the first round as she starts her bid to repeat her feat of 12 months ago, when she won her first grand slam title.
But that is all in the past for the 23-year-old Belorussian. "I'm not here to defend the title, I am here to win, to play tennis," she said.
"It's my position, my mentality going into and starting the tournament."
Azarenka admits, however, that her win here last year, when she crushed Maria Sharapova 6-3 6-0 in the final, proved a turning point in her career.
"It gave me more self-belief," she added. "I always thought of myself as a really good player but that mental edge I had made the difference. It definitely helps to bring a lot of inner confidence, knowing you can do it.
"That feeling I had was incredible and since then I want to feel it again. That is what motivates me even more every day. It's amazing when you achieve your dream."
Sharapova opens proceedings on Rod Laver Arena on Monday when she takes on Russian countrywoman Olga Puchkova.
Rusty
The second seed was forced to skip the warm-up event in Brisbane due to a collarbone injury and she admits her lack of match practice is likely to mean a different mental approach.
"I think you have to give yourself extra slack in case you do make a few more errors," she said. "You don't concentrate maybe as well as you would if you were in that match groove. But just because you're rusty doesn't mean you're not going to play well."
Despite being defending champion, Azarenka is not the bookies' favourite for the title. Serena Williams has won 52 of her last 54 matches - a run which saw her win Wimbledon, the Olympic gold medal and the US Open last year - and she heads the betting market.
Her form has prompted talk of the American targeting a Grand Slam this season, but Williams insists becoming the first woman to achieve the feat since Steffi Graf in 1988 is a tough ask.
She said: "That's an incredible goal. It hasn't been done since the 80s. I don't know if I can do it. Maybe someone else can, we'll see, but it's tough to say."
British number one Heather Watson is also in action on Monday when she takes on Romania's Alexandra Cadantu.