Andy Murray admits having great respect for friend and rival Novak Djokovic
Andy Murray admits he usually enjoys taking on world No 1 Novak Djokovic, who he has met 17 times on the main ATP Tour.
Last Updated: 15/01/13 12:14am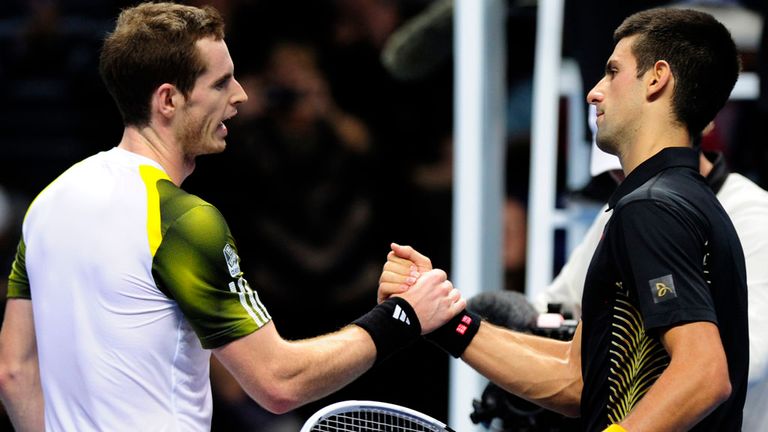 The Serb has won 10 of their matches, including the last two, although the Scot ended his long wait for a Grand Slam singles title with a victory over his friend in the final of the US Open last September.
The pair have met three times in Slams, with Djokovic winning the first two - both in Melbourne.
In 2011, the 25-year-old from Dunblane lost a straight sets final at the Australian Open and 12 months ago fell to the same player at the semi-final stage.
This match went the distance with Djokovic winning an epic five-setter in 10 minutes short of five hours.
Speaking about that clash Murray said: "I learnt a lot from last year's semi-final. It was a very important match for me in the context of my year.
"I got over that loss a lot quicker than I had some of my previous Slam losses. I felt like I played well and there was something I could really take away from it."
As for his relationship with the top seed who he knew as a junior and is just seven days younger, he added: "Never in any matches have I had any problems with him, or in practice.
"We've never had any issues with each other the whole time we've been on the tour.
"I think after the matches we've played over the last year or so, our respect for one another has probably grown."
As for the first Slam of 2013, he went on: "It's not worth making any predictions about rivalries or whatever but when I do play against him it's a match I enjoy.
"If I get to play Novak here that would mean it would be in the final so obviously that's what I would like to do. But I know how hard it is to get to the latter stages of these events."