Novak Djokovic not looking past Paul-Henri Mathieu at Australian Open
Novak Djokovic knows he must avoid complacency against Paul-Henri Mathieu in the first round of the Australian Open.
Last Updated: 14/01/13 6:52am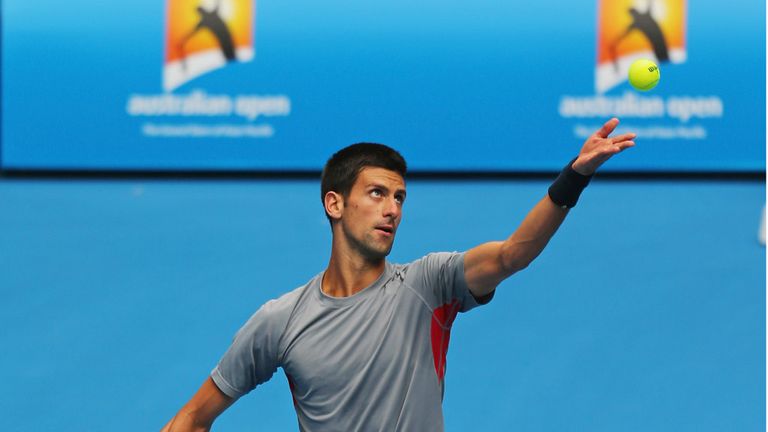 Djokovic is attempting to become the first man in the Open era to win the tournament three years in a row and goes into the event as the top seed and favourite.
His first hurdle comes in the form of former World No 12 Mathieu, who has reached the last 16 stage in Melbourne on two occasions.
"The draw is something you cannot affect. It's not in your hands so you just try to take it one match at a time, focus on your next opponent, your next challenge," Djokovic said.
"Maybe Mathieu is ranked lower at the moment (at 60 in the world) but he was a top-20 player. He knows how it feels to play on a big stage.
"There is no underestimating him, that's for sure. I'm going to try to focus from the start."
With last year's runner-up Rafael Nadal absent from the event, Djokovic's most likely challengers are Roger Federer and Andy Murray.
Djokovic understands why the four top players in the world have been put on a pedestal but believes there are several others capable of vying for the major prizes.
He added: "It's probably expected that the three of us, and Nadal of course, would still be the main candidates to win all the major titles.
"But I wouldn't underestimate (Juan Martin) Del Potro, (Jo-Wilfried) Tsonga, (David) Ferrer, (Tomas) Berdych or anyone who is in the top 10.
"And there are young players coming up like (Bernard) Tomic, (Grigor) Dimitrov and (Milos) Raonic. I don't think it's nice for me to predict that us three will be champions of all the Grand Slams this year."