Australian Open: Gilles Simon not expecting to upset Andy Murray on Monday
Gilles Simon insists he will be fit to face Andy Murray in the fourth round of the Australian Open on Monday.
Last Updated: 21/01/13 7:49am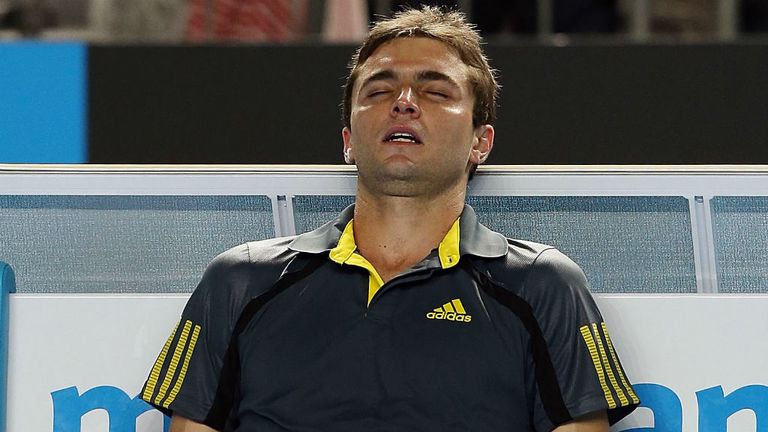 The Frenchman came through a titanic tussle with compatriot Gael Monfils on Saturday night, eventually triumphing 6-4 6-4 4-6 1-6 8-6 in a match that lasted four hours and 43 minutes and finished well after midnight.
Simon was treated repeatedly for cramps in his legs and right forearm, though the 14th seed will still make it out on court to take on Murray.
"I don't have a lot of chance to win this one," he said of his next match against the Scotsman. "But this is my job to go on the court and do the maximum to bother him, to give him a hard time.
"The thing is, it's difficult to win 6-2, 6-3, 6-2 against Andy. I'm not sure, if we play longer, that I will be able to make it to the end."
Asked which area of his body was giving him the most concern following the match with Monfils, he added: "It's everything.
"I never cramp on the court normally so it was a strange feeling for me.
"I felt at the end of the second set that it would be very hard to continue to play, I was just hoping I would feel a little better.
"So I decided to rest a little bit on the court, play different tennis for the third and fourth sets and try to give everything in the fifth."
At least Simon will get some extra time to rest - his clash with Murray has been scheduled for last on Hisense Arena.
"You can't put someone on in the night session and then first match two days later," he said. "I am just going to try to recover as well as possible for tomorrow. Work on this today."