Andy Murray 'calm' ahead of Australian Open semi-final against Roger Federer
Roger Federer stands between Andy Murray and a third Australian Open final, but the Scot is staying calm.
Last Updated: 25/01/13 8:45am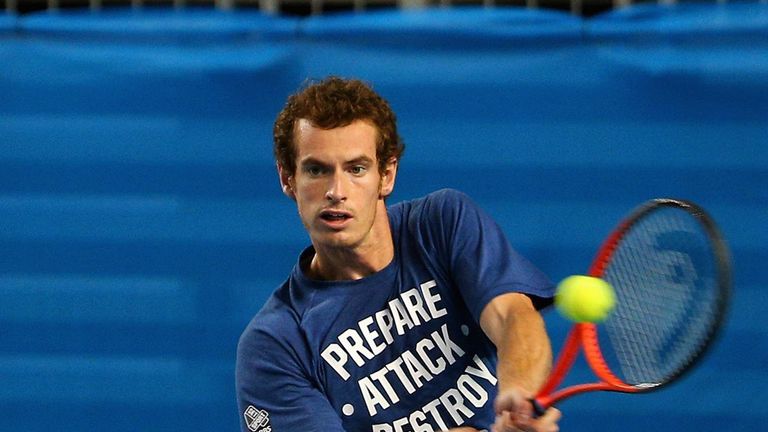 Murray takes on 17-time Grand Slam champion Roger Federer in the night session at Rod Laver Arena on Friday (from 08.30 GMT) for a shot at another imperious opponent, defending champion Novak Djokovic, in Sunday's final.
Three times Murray has met the Swiss demigod in major tournaments; three times he has been beaten.
But he is no longer looking in on an exclusive club, no longer weighed down by expectation and the tick-tock of time. Winning the US Open title and claiming Olympic gold - at Federer's expense - last year freed the demons.
"I probably feel a little bit calmer than usual," Murray said.
"But I still have an understanding of how difficult it is to win these events. With the players that are still left in the tournament, it's going to be a very tough few days if I want to do that."
Federer shrugs off the notion of an enduring psychological advantage - the pair's head-to-head record leans 10-9 in Murray's favour.
Mindset
"I don't go into it with a mindset that I've never lost to him in Slams," he said. "He's beaten me so many times. He's beaten me more times than I've beaten him."
Federer is mindful that Murray will arrive with fresher as well as younger legs. The third seed has not dropped a set this year in Melbourne and crushed France's Jeremy Chardy 6-4 6-1 6-2 to make the last four.
"I would probably rather be in his shoes," the 31-year-old, who by contrast needed five sets to see off Jo-Wilfried Tsonga, said. "Has he lost a set? I don't think he has. That's exactly how you want to approach a semi-final match."
Murray was pointedly relaxed after disposing of Chardy with tennis he described as "his best yet" but is confident of upping his game again.
"I think you have to trust yourself that when you are tested you're going to play better tennis," he said.
"I can't be disappointed about being in the semis of a slam without dropping a set. That would be silly. I've done a good job so far."