Andy Murray ready for 'painful' showdown with Noval Djokovic after beating Roger Federer in Australian Open semi-final
Andy Murray is ready to push himself to the limit to deny Novak Djokovic a second successive major title.
Last Updated: 27/01/13 8:48am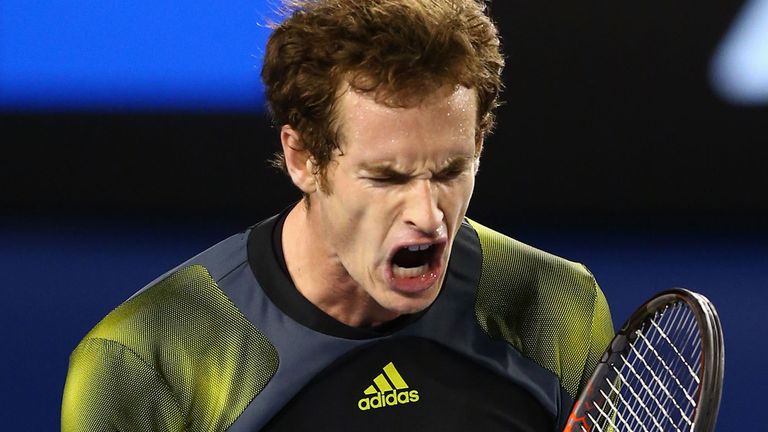 Murray was twice pegged back in a punishing four-hour, five-set Australian Open semi-final but prevailed 6-4 6-7 (5-7) 6-3 6-7 (2-7) 6-2 to see off the Swiss legend for the first time in a Grand Slam tournament.
Top seed Djokovic will enter Sunday's showdown the fresher after swatting aside David Ferrer in straight sets a day earlier but Murray insists he is prepared for another gruelling encounter.
"Every time we play each other it is a physical match," Murray said of his final opponent. "He is an unbelievable mover so I will need to be ready for the pain.
"I hope it is a painful match because that means it will be a good one."
The world No 3 bounced back from losing two tie-breaks to reach his third Melbourne final and paid tribute to 31-year-old Federer's enduring quality.
"It's always tough against him; when he plays in Slams is when he plays his best tennis," the Scot added.
Unbelievable shots
"When his back was against the wall at 6-5 and I was serving, he came up with some unbelievable shots. I just had to keep fighting.
"To lose the second and fourth sets from good positions was tough but I was happy with the way I responded."
Federer, who won just 43 per cent of points on second serve compared to Murray's 63, had no complaints with the result.
"I was down in the score basically from the start," the 17-time major winner said.
"It was more of a chase although I was able to level a couple of times.
"I think Andy was a bit better than I was. I was hoping to do a bit better but overall I'm pretty pleased with the tournament."