Rafael Nadal will not be 100% when he returns to the court on Tuesday, according to his coach
Former World No 1 Rafael Nadal will not be 100% when he returns to the court on Tuesday, says his coach.
Last Updated: 05/02/13 1:45pm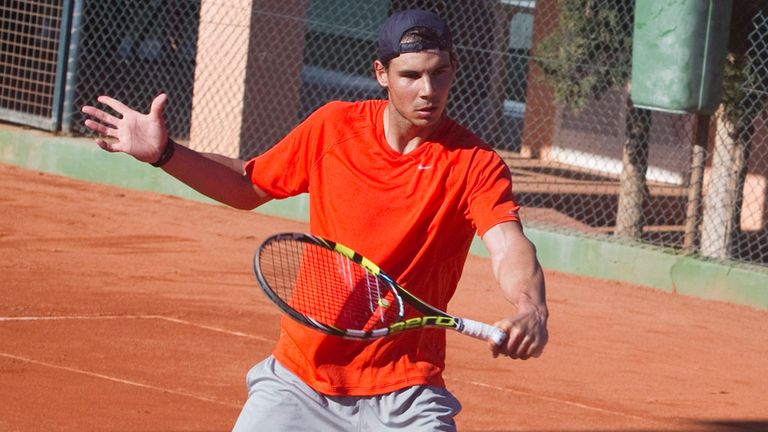 The Spaniard, who has spent eight months away from the ATP Tour with a knee injury, will be playing his first competitive game since June.
The 11-time Grand Slam winner is scheduled to play a first-round doubles match alongside Argentinian Juan Monaco against Czech second seeds Frantisek Cermak and Lukas Dlouhy, before starting his singles campaign on Wednesday.
His coach, and uncle, Toni Nadal said: "The knee is much better, but they've told us he will feel some discomfort and lack of mobility until the end of the month. But it's definitely getting better."
The Spaniard has been training since arriving in Chile four days ago, his coach added: "His game is much better than when we got here.
"It was better yesterday and even better today. We're looking to the doubles as an added test."
Nadal practiced for 90 minutes with Nicolas Massu of Chile on Monday, his fourth straight day of training since arriving in the country for his first match in more than seven months.
Vulnerable
World No 3 Andy Murray believes Nadal could be vulnerable until he gets up to speed.
"He might not have the same aura straight away and you would expect people in the first few months while he is not back to his highest level and think they could possibly upset him," Murray said.
"But over time, and if Rafa wins his first three tournaments back that changes everything and people will be worrying about him again. People fearing you comes winning and confidence."
Despite the huge pressure to immediately shine on the tennis stage again by his fans, Murray urged caution, although he expects his old rival to challenge strongly for an eighth French Open title in June.
"The expectation will be high and people will expect him to do things straight away but it could take a number of weeks and months before he's back to his old self again," the Scot added.
"But he's been practising for a month and half and was pressing for the Australian Open before he got sick.
"Providing his knee doesn't have a setback he will win some matches in south America and if he's physically okay by the French Open he will be in good shape."