Great Britain's Fed Cup team in great shape to reach World Group says skipper Judy Murray
Judy Murray believes the Great Britain Fed Cup team have an excellent chance of reaching the World Group.
Last Updated: 05/02/13 9:03pm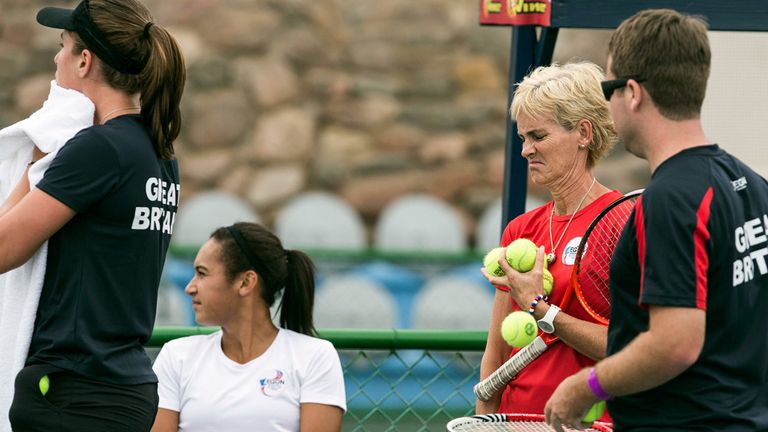 Britain open their 2013 campaign at Eilat in Israel on Wednesday when they will take on Bosnia-Herzegovina in Pool B of the Europe/Africa Zone.
Later in the week they will meet Portugal and Hungary, and should they emerge as group winners will face the nation that top Pool D at the weekend.
And a victory in this contest would earn them a shot at the World Group II play-off in April and a place at the top table of 16 countries.
Team captain Murray is confident her team can reach this milestone, with Robson and Watson taking over singles duties from Elena Baltacha and Annie Keothavong this season.
She said: "The younger members of the squad - Laura and Heather - have had a very exciting 12 months.
"They have pushed their ranking inside the top 50 and they are getting towards the top 40 which is a fabulous achievement.
Dynamic
"It means there is a slightly different dynamic in the team with regards the singles rankings.
"It puts us in a very strong position, the team is fighting fit and I think we are ready to fight for a place in the World Group.
"We have a great blend of youth and experience. It's a great platform and opportunity for us to move forward."
Murray added: "The draw has probably been quite kind to us. There are a number of teams we had hoped to avoid and we have avoided them.
"With the format being just two singles and one doubles, if you come up against a team with a very strong number one like Poland (world No 4 Agnieszka Radwanska) it is a very hard obstacle to overcome."
And Murray is also happy with the scheduling that sees Britain play their matches in Israel in the morning.
She went on: "In the morning it is relatively calm and pretty warm. Later the wind gets up a little bit and it's very strong between 5pm and 6pm and it can also get cold.
"We can get our matches out of the way and then study video footage of our next day's opponents.
"It will suit us better than last year when we were starting at 5pm and not getting back to the hotel until late. Also having to play in cold and windy conditions was not ideal."