US tennis loses another tournament as San Jose Open concludes for the last time
US tennis lost another tournament on Sunday as the San Jose Open final was played for the last time.
Last Updated: 18/02/13 11:26pm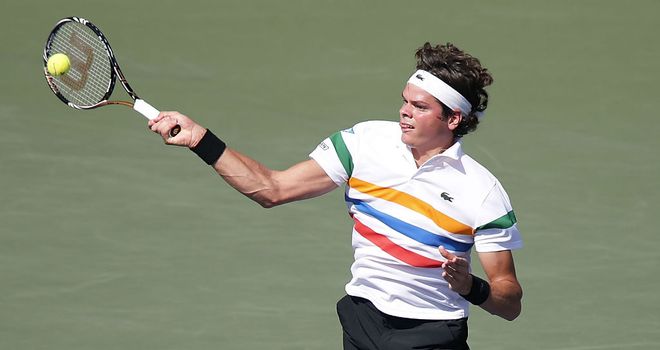 Milos Raonic will be its last champion, with famous names such as Fred Perry, Rod Laver, Jimmy Connors, John McEnroe, Andre Agassi, Pete Sampras, Andy Murray and Andy Roddick previous winners.
The Los Angeles Open has relocated to Bogota, Colombia, and Rio de Janeiro will fill the slot occupied by San Jose - the second oldest tournament in America after the US Open - next year.
Tournament owners San Jose Sports & Entertainment Enterprises, who are also in charge of NHL team the San Jose Sharks, opted to sell the event to Rio for financial reasons and to prevent having to send their team on an annual two-week road trip.
Landmarks
Former player and broadcaster Justin Gimelstob, who is also an ATP board of directors member, said the loss of tournaments is worrying for US tennis fans and players.
"It's been one of the landmarks of the tour," he said. "There are so many great champions who have won here. This negative trend is very disappointing.
"Putting my US tennis fan and broadcaster hat on, America is a huge market and we need to make sure that the market is protected and incentivized.
"Putting my ATP board of directors hat on, it's a difficult business model at this smaller level having these outlying tournaments. How do they get the top players, television and sponsors? It's a bad cycle. Something needs to be done."
Sky Sports commentator Leif Shiras, who has either played or broadcast at the event since the early 1980s, said that losing events with a long history chipped away at the foundation of the game.
"The fact that we are losing another event in California, it's stunning to me we are allowing these things to happen," Shiras said.
"I look at France - they hang on to their events. If one city's event is not working they find another place for it to work and it's a wonderful way to keep their players plugging into the highest levels of game.
"In terms of player development and exposure to highest levels of game, I think it's worst possible scenario for the US."