Andy Murray wary of Bernard Tomic ahead of second round clash in Miami
Andy Murray will face the mercurial Australian star Bernard Tomic in the second round of the Miami Masters on Saturday.
Last Updated: 23/03/13 8:12pm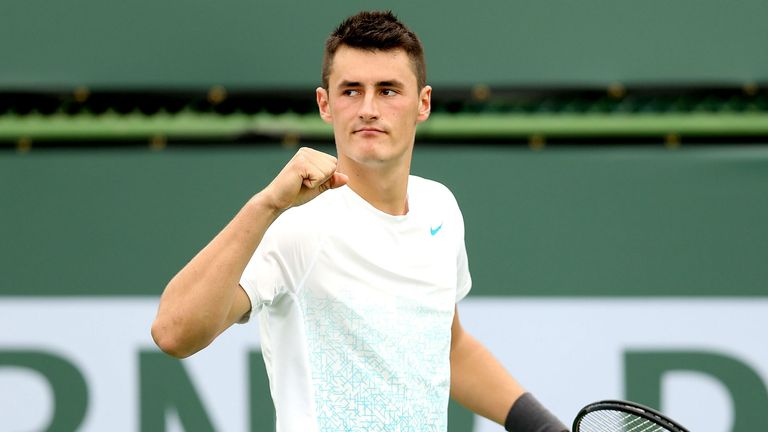 Tomic knocked out Frenchman Marc Gicquel 7-5 7-6 (7-3) in the first round to earn a shot at the world No 3 - who as second seed in Florida was given a bye through to the second round.
They pair have only met once before, in Brisbane last year, and Murray hammered the combustible Tomic 6-3 6-2.
Tomic, 6'5, is one of the most frustrating players on the tour - unplayable one day, appalling the next. His on-court and off-court behaviour makes headlines as often as his victories, and he is generally regarded as a much better player that his current world ranking of 45 suggests.
Murray admits it is hard to know which Tomic will turn up in Miami.
"I'll see, obviously, when I play against him. I haven't seen him play that much outside of Australia the last year or so," he said.
"He's a very, very talented player. He makes it tough for everyone. He's got a very unorthodox game."
Groove
Tomic is difficult to play against because he mixes up his tactics so much - lots of angled slices and drop shots - although he can hit a big ball from the baseline too.
If it comes off, he can beat anyone and he can be reminiscent of the great Czech star of the 1990s, Miroslav Mecir.
After one win over Mecir, Murray's coach Ivan Lendl famously once said that playing against him was like "doing three hours of wind sprint training."
It can be a similar challenge against Tomic if he is in the groove, but all too often he is not and he can be easily distracted by conditions, the crowd, and his opponent.
The conditions are much more to Murray's liking than Indian Wells where he lost to Juan Martin del Potro in the quarter-finals last week. The Scot admits he struggles in the dry desert heat of California, and is much happier in humid Miami, where he spends his off-season.
"I think it should help," Murray said. "I have trained in these conditions a lot. I find the conditions quite tricky in Indian Wells - they are extremely different from the conditions from here, where I train and practice."