Serena Williams enjoys a record sixth Miami title after beating Maria Sharapova
Serena Williams was delighted to bag a record-breaking sixth Miami title after fighting back against Maria Sharapova.
Last Updated: 31/03/13 1:56pm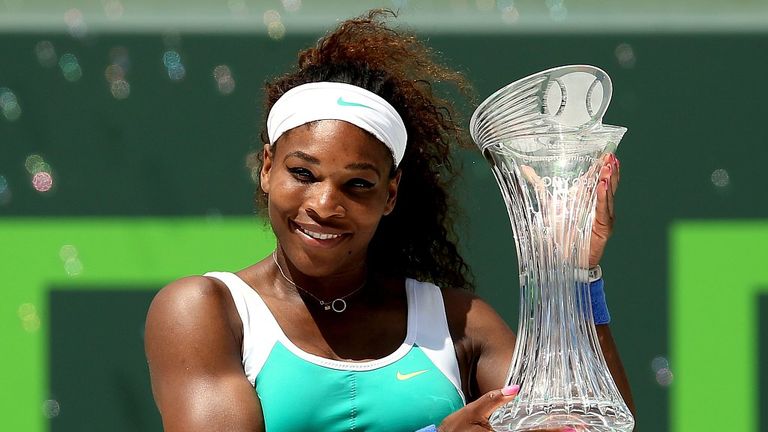 The world No 1 struggled with her serve in the opening hour and lost the first set, but roared back to beat the Russian 4-6 6-3 6-0 and become only the fourth woman in the Open era to win the same WTA tournament six times.
The 31-year-old joins Martina Navratilova, Chris Evert and Steffi Graf on that illustrious list.
"I finally have some record," Williams said. "Like it's really cool. I can't seem to catch up with Margaret Court or Steffi or anything. I'm really happy to have something right now, so it's exciting.
"Maria played really the best I have seen her play, and I think she was moving unbelievable and she was hitting winners from everywhere. How did I end up winning when I actually wasn't on top of my game?"
Second-ranked Sharapova has now lost to Williams in their last 11 meetings and has not beaten Serena since her two victories in 2004. It was also her fifth runner-up spot in Miami.
"I had my chances. There's no reason why I couldn't win the match today," said the Russian, who rejected suggestions of a psychological weakness against her opponent.
"It was a step in the right direction and there's no doubt that we'll be playing many more times. There's no doubt I'll be able to beat her."
Despite the victory and her new record, Williams remained unconvinced by her performance.
"I was just making so many errors, and I just was like, 'Serena, are you really going to get to the final and not play up to your potential?'" she added.
"One of the first things I said after the match is I need that tape so I can go home and study it and train and try to get better."