Heather Watson has backed Great Britain's Fed Cup team to win promotion
Heather Watson has backed Great Britain's Fed Cup team to make it third time lucky and reach the World Group next year.
Last Updated: 23/04/13 6:18pm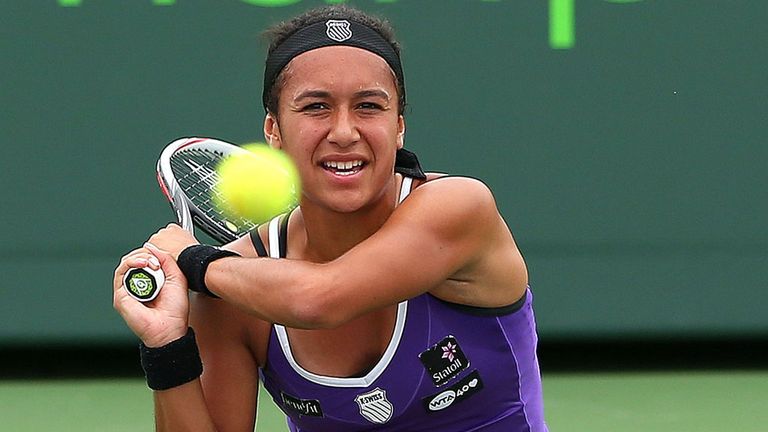 Judy Murray's side have qualified for the play-offs to secure promotion to World Group II for the past two years, but both times have come up short.
Britain lost to Sweden at the play-off stage 12 months ago and were beaten by Argentina on clay in Buenos Aires at the weekend.
The result was particularly disappointing because the visitors had higher-ranked players, although the surface meant it was always a tough task.
Britain's chances would have been significantly improved had Watson been available but the 20-year-old is currently sidelined by glandular fever
"That was really tough for me not being there to play. I was screaming at the TV so much I lost my voice," she said.
"You don't want to watch your team go down so it was really tough to watch but they gave it their all and we'll just have to come back next year and do it all again.
"It's so difficult to get out of the group stages but we've made the play-offs twice now so we're very close. Hopefully next year if we get there again we'll have a home draw."
Watson announced earlier this month that she was suffering from the illness, which is not unusual in tennis players.
Patient
She added: "I'm feeling a bit better. I'm making sure I get lots of sleep and I'm doing the right things like eating healthily and drinking lots of fluids. I've just got to be patient but I'm really looking forward to coming back.
"I'm going to try to do some exercise next week and we'll take it from there. I hadn't picked up a tennis racket until today and I've only hit about three balls.
"It's so weird going from hitting every single day of the year to doing nothing. I don't think I've played for over a month now. It's nice in a way but in another way I feel a bit sluggish.
"A break was definitely needed. It's kind of a blessing in a way because it's really making me miss the game. That's how I'm looking at it."