John Tomic banned from all ATP tournaments until further notice
John Tomic, the father of Australian No.1 Bernard, has been barred from all ATP tournaments until further notice.
Last Updated: 07/05/13 8:54pm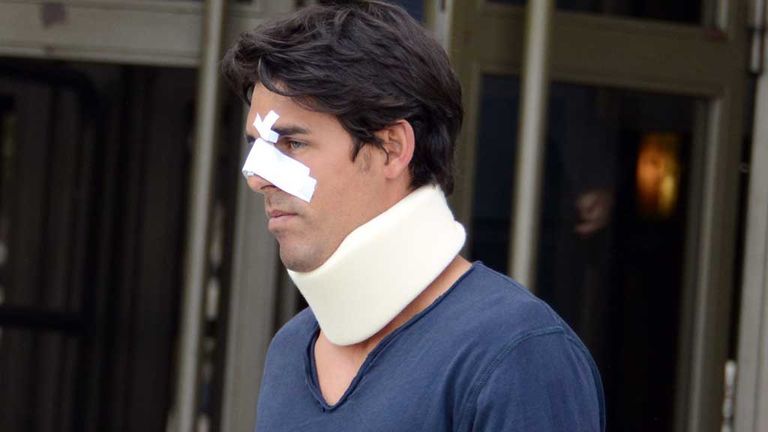 Tomic appeared in court on Tuesday where he denied charges of assaulting his son's practice partner Thomas Drouet, shortly after their arrival in Madrid for this week's tournament.
In a statement on Tuesday evening, the ATP said: "Following last week's incident in Madrid concerning John Tomic, and the ensuing investigation, Mr Tomic's credential privileges have been suspended at all ATP tournaments until further notice.
"The ATP's investigation into this incident remains ongoing."
Tomic, who must return to face trial on May 14, allegedly broke Drouet's nose and told the court he acted in self-defence.
According to Drouet, however, a row at Nice airport prior to leaving for Madrid was the catalyst and, on arriving in the Spanish capital, Tomic asked to walk with him before the incident took place.
Drouet said: "Outside the Cuzco Hotel he comes up to me and I think he is about to apologise (for the incident in Nice) and he says come over here with me.
"So I walk with him maybe 100 metres and he is doing this (looking about), like looking about for a place. It was away from the front.
"He then says the same things and then spits in my face.
"I took steps back and say 'okay John, you are a real man'. And then I say 'okay don't pay me, Bernard will pay me'.
"He suddenly turns and headbutts me right here (points at bridge of nose).
"I call out 'help' and then I fall down. I am out 10 to 15 minutes, I didn't know - that is what I am told.
"I lost consciousness, I blanked out. I was told after this headbutt he just walked back to the hotel like normal, like nothing happened."
Tomic's lawyer Carmen Dieguez however, insisted Drouet was the aggressor.
"(Tomic) claims (Drouet) was the aggressor and grabbed him," he said.
"He feels it was self-defence and he does not believe he was responsible for what happened."
Speaking as he left the court, Tomic said: "I don't feel guilty. I didn't do anything wrong."