Rafael Nadal and Roger Federer face final battle in Rome Masters
Rafael Nadal and Roger Federer clash for the first time on clay in 23 months, in Sunday's final of the Rome Masters.
Last Updated: 19/05/13 4:28pm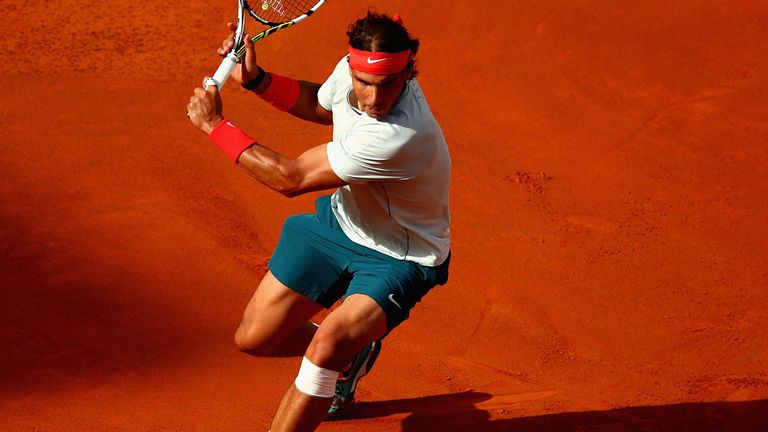 This mouth-watering contest will be their 30th meeting in ATP Tour events - dating back to 2004 - with the Spaniard currently holding an 19-10 advantage.
More telling is Nadal's dominance on clay, with the 26-year-old leading 12-2 overall - a sequence that includes seven of the last eight.
However, Federer will take heart from their only previous meeting at the Foro Italica in 2006 when they also met in the final of the tournament.
On that occasion, Nadal prevailed after five tough sets that included three tie-breaks.
The match lasted more than five hours and, after a see-saw battle, Nadal took the deciding set tie-break 7-5.
Nowadays, Masters series' finals are best-of-three but Federer has not forgotten how he performed in Rome seven years ago.
Speaking after his semi-final win, the 31-year-old from Switzerland said: "I thought back then, 'if I can hang with him in Rome for five hours on clay, which is supposed to be his best surface, I can do it anywhere."
As for making comparisons between then and now, Federer added: "We're still similar tennis players but a lot of time has gone by.
"But I think we still enjoy tennis as much as back then, maybe even more."
Nadal, who missed around seven months of action late last year due to a knee injury, is looking forward to their 30th showdown: "We are here in 2013 and he is number three in the world and I am number five after not playing for months and we are still playing good.
"I hope that this is not going to be the last time we meet."
Their most recent game was on hard court at Indian Wells in California earlier this year when Nadal triumphed 6-4 6-2 in 85 minutes.
The smart money will be on Nadal again but Federer, who is yet to drop a set this week, cannot be ruled out.