Andy Murray fit and ready for grass court campaign
Andy Murray is hoping his enforced absence from the French Open will prove a blessing in disguise at Queen's next week.
Last Updated: 08/06/13 9:34pm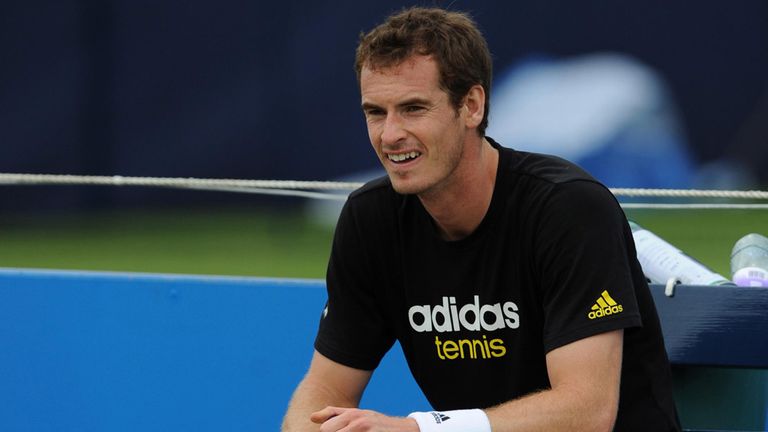 The world No 2 was forced to miss Roland Garros because of a back injury, ending a run of three straight grand slam final appearances.
But he will return to action at the Aegon Championships next week having been able to spend more time than usual practising on grass with coach Ivan Lendl.
Asked if missing Paris will help his chances at Queen's and - more importantly - Wimbledon, Murray said: "I hope so. That's the sort of attitude you need to take.
"I know after the French Open last year I took five or six days off and when I started practising again I felt really comfortable on the grass straight away and that isn't normally the case.
"Grass takes time to get used to. I've been on the grass for 10 days or so and that's probably a week longer than I would have had if I'd been at the French Open.
"It's more than I've had the past few years and I've been playing better and better each day in practice so hopefully it will turn out to be a blessing.
"I'll be short of match practice. I've done enough training over the last 10 days or so. I actually did a big training block after Monte Carlo so some of that should still be in there too so it's just matches that I'll need.
"Normally, coming from the clay court I'd be match-tough, just not used to the surface, whereas this year I won't be match tight but at least I'll have had 10 days on the grass.
"The conditions here are perfect. It's a great setting and the Centre Court is really, really good so it's perfect preparation. It's also got a lot of history this tournament so it's a nice one to win and do well at and I'll try and have a good run."
Murray will be joined at Queen's by fellow top-eight players Tomas Berdych, Juan Martin del Potro and Jo Wilfried Tsonga in a strong draw which also includes defending champion Marin Cilic and four-time winner Lleyton Hewitt.