Aegon Nottingham Challenge: Elena Baltacha reclaims her title
Elena Baltacha reclaimed her Aegon Nottingham Challenge title to give herself a pre-Wimbledon confidence boost.
Last Updated: 17/06/13 11:43am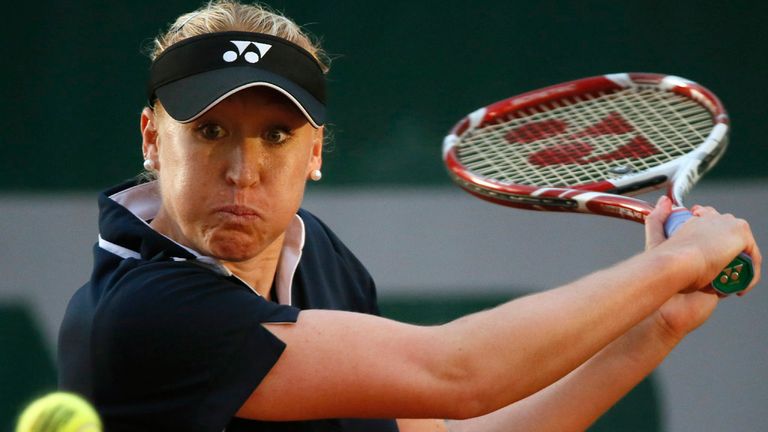 The 29-year-old beat Tadeja Majeric 7-5 7-6 (9/7) to end a trophy-drought stretching back to this competition in 2011.
Victory over the 22-year-old Slovenian, who is ranked 135 in the world, is a timely boost for Baltacha, who has been troubled by injury and underwent foot surgery last year.
"There is something about Nottingham, this is the third time I've won a title here and I've never lost a final," Baltacha said.
"It is a very, very special place - it is magic for me to be honest. It means absolutely everything to me, I was pretty much bawling my eyes out.
"To think I actually nearly retired after the Olympics nearly a year ago. To then have ankle surgery, then go through rehab, I can't believe how far I've come in such a short space of time. Having already scored two top 100 wins is incredible and now I've got this title.
Amazing
"To come back and play tennis like that, consistently in five matches this week, was such amazing feeling - it is such a special win.
"At this point of my comeback, a tough match like that is something I really needed - I needed to get pushed hard to find things out about myself.
"One of the things I've definitely picked up on is that I'm stronger - I'm mentally stronger, my heart seems to be bigger and my stomach can tolerate much more now, which is exciting for me moving forward.
"I am going to Eastbourne and Wimbledon with the best form I possibly can. I couldn't have had a better week getting ready for it."