Wimbledon: Rafael Nadal's immediate target is making the second week
French Open champion Rafael Nadal admits he hasn't had enough practice on grass heading into Wimbledon next week.
Last Updated: 18/06/13 6:15pm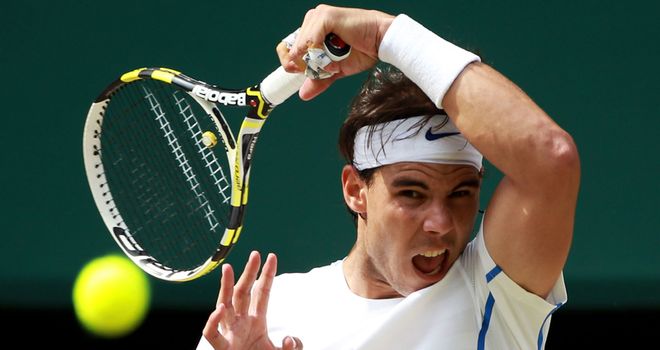 The Spaniard is preparing for a tricky transition from the clay to the grass of Wimbledon as his bid for a third title at the All England Club begins next week.
Nadal emerged victorious in Barcelona, Madrid and Rome following a seven-month injury layoff due to a knee problem before winning at Roland Garros for a record eighth time earlier this month.
And the 27-year-old, whose last match on grass was a shock five set defeat by the then world No 100 Lukas Rosol in the second round, says it will take him some time to get used to the conditions.
No training
"I am going without having trained on grass and it is a surface that you have to understand, learn once again and know how to play the points and focus in the right manner in certain situations," said the world No 5.
"I have gone practically two years without playing on grass because last year I arrived in very bad condition due to the knee, just as much in Halle as at Wimbledon.
"So I have to work from today, doing things right and trying my hardest in every training session, which is the only way to arrive at the first round in good condition."
The 12-time Grand Slam champion insists that simply making the second week rather than a third championship is his immediate target.
"Wimbledon is not like the Roland Garros, Australia or the US Open where in the course of the match you can go on saving or extending the match.
"It is a different situation and you have to be very concentrated in every moment because the match can go by very quickly.
"I love to play there, where all the matches are especially difficult. I don't know how my adversaries will go, but whoever I face, to get to the quarters or semis would be very good news, because it would say that I have had a very good first week."