Wimbledon: Serena Williams says match with Andy Murray in Las Vegas would be 'fun'
Serena Williams would relish the chance to take on Andy Murray, but doubts she would be competitive against him.
Last Updated: 27/06/13 9:32pm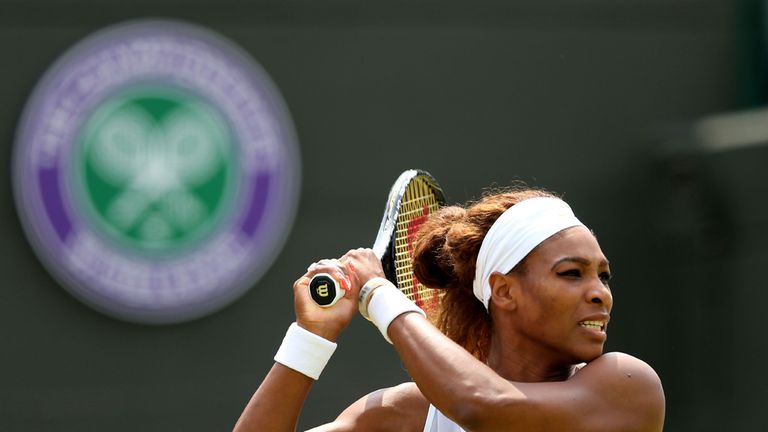 After being challenged on Twitter to take on the 16-time grand slam winner, Murray revealed he was interested in taking part in such a contest.
Previous cross-gender matches between Bobby Riggs, a tennis superstar of the 1930s and 1940s, and Margaret Court and Billie Jean King garnered worldwide attention and Williams would not be against reviving the idea.
"He's challenged me? Really? He wants to play me? Is he sure? That would be fun. I doubt I'd win a point, but that would be fun," she said.
"[I've done it before but] I was really young. I'm a lot more experienced now. He's probably one of the top three people I definitely don't want to play.
"But, yeah, maybe we can have a little bit of a showdown. That would be fine. I get alleys (tramlines). He gets no serves. I get alleys on my serves, too. He gets no legs."
A match between Murray and Williams would also be reminiscent of the clash between Jimmy Connors defeated Martina Navratilova in Las Vegas in 1982.
"I have been challenged by someone on Twitter to taking on Serena Williams. I'd be up for it, why not?," Murray wrote in his BBC Sport column.
"I've never hit with her but she's obviously an incredible player and I think people would be interested to see the men play against the women to see how the styles match up.
"It's happened in the past with Jimmy Connors and Martina Navratilova. How about Las Vegas as a venue?"