Wimbledon: A relaxed Andy Murray prepares to face Fernando Verdasco
Andy Murray insists he is in the perfect frame of mind as he prepares for Wednesday's Wimbledon quarter-final.
Last Updated: 03/07/13 3:35pm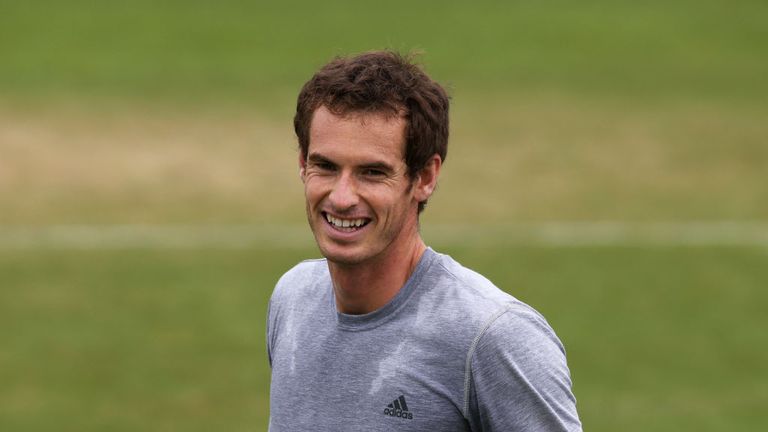 Murray is bidding to become the first British man to lift the men's singles title at the Championships in more than 77 years and knows that expectation is building throughout the nation.
On paper he would appear to have a straightforward route to Sunday's final, beginning with a quarter-final against the unseeded Fernando Verdasco on Wednesday.
Losing to Roger Federer in last year's Wimbledon final provoked a tearful response from Murray. But, after winning the US Open and an Olympic gold at Wimbledon last year, Murray has appeared increasingly in command of his emotions both on and off court.
He is in no doubt the pressure won't affect him this week. "There's always pressure coming into this event and it builds with each match," he said.
"But I've dealt with it well over my career. I've played well at Wimbledon. It's been consistently my best slam over the course of my career.
"So that's partly down to the surface and partly down to enjoying playing in front of a home crowd and being able to kind of block everything else out. I work extremely hard to give myself the best chance to do well here."
This year's tournament will be remembered for the incredible number of upsets, culminating in Serena Williams' shock exit on Monday.
Strange
"I just think the nature of how the tournament's gone, there was a few days there where it was just strange," Murray added.
"I think everyone was a bit on edge, a little bit uptight because of what was happening with the injuries, withdrawals, upsets and stuff. I felt a little bit more relaxed over the weekend and even calmer before the match today.
"I don't read everything that's getting said and I'm not out and about on the street speaking to people about the tournament," he said.
Murray will play against a resurgent Verdasco in the quarter-finals, an opponent he cannot afford to take lightly.
"I'm with the guys that I work with. I talk to them about each match individually. We don't get ahead of ourselves because you can't afford to do that. There's a lot of tough opponents left in the draw. Verdasco's playing very well this week as well.
"He's extremely dangerous when he's on his game. I haven't played a left hander the whole year, which I think is pretty amazing six months into the year."