Wimbledon 2013: Andy Murray faces potential Jerzy Janowicz semi
Barry Cowan takes a look at the players competing in this year's men's quarter-finals at Wimbledon.
Last Updated: 03/07/13 8:59am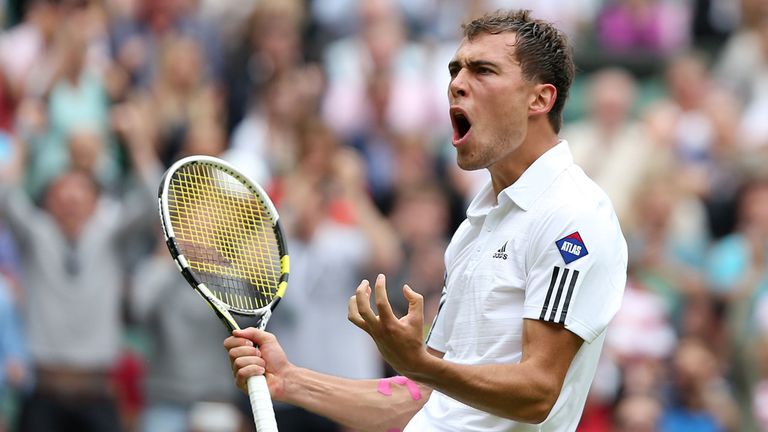 In fact if those matches pan out the way I predict, it's amazing to think that there will only be one 'surprise' name in this year's semi-final - which is staggering considering everything that has gone on so far!
Here are my thoughts ahead of Wednesday's matches and my predictions for each. Let me know your views on each contest by filling out the feedback form below...
NOVAK DJOKOVIC (1) v TOMAS BERDYCH (7)
You can't ignore Djokovic's 13-2 winning record against Berdych - or the fact that the top seed has been playing better and better with each passing round. Djokovic would have beaten Tommy Haas 6-1, 6-4, 6-3 if he'd served out for the match and, given how well the German is playing, that just goes to show the level that Djokovic has reached. Haas is no pushover and I thought that potentially he had a shot at beating Djokovic but Novak looks so at ease with himself right now - it looks as though nothing is going to blow him off course. Berdych did win the last time these two met, in the quarters of the Rome Masters when Djokovic lost a little bit of focus, and he's played great tennis at this Wimbledon so far. The Czech has become incredibly consistent because he's so mentally tough; he's there every single week. He does lack a little speed around the court against the top four but he's improved that area of his game recently and if he can play his 10 out of 10 game he certainly will push Djokovic hard. But it's incredibly tough to play your best tennis over five sets and if and when his level dips Djokovic will pick him off.
COWAN'S CALL: Djokovic to win in five
FERNANDO VERDASCO v ANDY MURRAY (2)
Andy has been immense throughout the tournament so far and has yet to drop a set; there haven't been any bumps in the road and while he desperately wants to win a Grand Slam at Wimbledon he's experienced enough to know that he plays his best tennis when he doesn't put too much pressure on himself and stays relaxed on court. Every aspect of his game is working well and he shouldn't be concerned going into this match even though Verdasco has beaten him before in a Grand Slam, in Australia in 2009 when the Spaniard was at the peak of his powers. Since then Verdasco has dropped down the rankings to where he currently resides at No 54 but his coach Ricardo Sanchez is helping him put in the hard yards and that work is paying dividends. Murray's grass-court pedigree and his fantastic record against left-handers (the great Rafael Nadal aside) makes him the overwhelming favourite in this one and he should expose some shortcomings in his opponent's movement by using the slice intelligently. Going into Andy's backhand is a huge asset for Andy because of how well he returns. Back in 2009 Verdasco served incredibly well but in recent years he's struggled to reach the same standard and has been prone to double faults. He's improved that area of his game in this tournament and he still has a monster forehand - if Andy allows him to hit it.
COWAN'S CALL: Murray to win in straight sets
DAVID FERRER (4) v JUAN MARTIN DEL POTRO (8)
Both players have reached this stage despite injury. Ferrer has had a knee and ankle problem, while Del Potro has been struggling with his knee - particularly in the first four or five games of his win over Andreas Seppi. Del Potro seemed to lack confidence at the start of that match but by the end he was playing fantastically well. That's where the doubt lies in this contest. If Del Potro plays as he started on Monday, Ferrer will beat him easily, but if he can start as he finished against Seppi then we should see a real contest. For his part, Ferrer seems to grind out wins whether he's injured or not. The Spaniard has played more matches than Del Potro coming into Wimbledon after reaching the final of the French and I think that should have a bearing - plus the head-to-head record is heavily in his favour. I'm surprised that this is Del Potro's first Wimbledon quarter-final but the fact that he beat Djokovic before losing to Roger Federer at the Olympics suggests that he is more than comfortable on the grass. I would probably back Del Potro to win this one if I felt he was 100 per cent fit but I'm not so sure he is and that will be a problem when Ferrer makes him go deep into long rallies. In addition Ferrer returns well - that's one of the reasons he does have a good record against Del Potro, who doesn't like to come forward. I think that's a big advantage to have in your locker any time you play Ferrer.
COWAN'S CALL: Ferrer to win in four
LUKASZ KUBOT v JERZY JANOWICZ (24)
It's remarkable that a small tennis nation like Poland is having such a good Wimbledon - for the second year in succession. Agnieszka Radwanska reached last year's Ladies' final and is back in the semi-finals this year and now these two Davis Cup team-mates players are flying the flag. Both have been helped in no small way by the early exits of Federer and Nadal, of course, yet while Kubot has rather snuck through the draw, Janowicz is really looking the part. His tennis has been a breath of fresh air ever since he reached last year's Paris Masters final. He plays with passion and he is a quality performer too. Not only does he have the big serve but his touch is good too. You never know quite what to expect when two guys from the same country play each other in such a big match. At the age of 22 Janowicz has age on his side and the 24th seed is much higher ranked than 31-year-old Kubot, who is currently the world No 130. I expect Janowicz to rise to the occasion, partly because I'm sure he would have come into this Championships thinking he could make the semi-finals. In contrast it must be beyond Kubot's wildest dreams to be in the quarter-finals let alone the last four. Janowicz is destined for great things - he's going to be a top 10 player - while this might be Kubot's best run in a Grand Slam.
COWAN'S CALL: Janowicz to win in straight sets
Barry's predicted semi-final line-up
Novak Djokovic v David Ferrer
Andy Murray v Jerzy Janowicz
Barry Cowan is raising money for the charity Have a Heart throughout Wimbledon with his Sky Bet Charity Bets. Find Barry's top daily and outright tips here.